Veteran Canadian race driver Alex Tagliani, who lost his IndyCar ride with Barracuda Herta last summer, may begin a new career in endurance, sports car racing.
Having raced single seaters (Formula Fords, Formula Atlantics and Indy cars) for more than two decades, "Tag" drove for R. Ferri/Aim Autosport Ferrari Grand-Am Rolex GT team at Kansas on August 17. He drove the Ferrari once again at Monterey and that could have signaled the start of a new career.
Talking to
RACER
magazine, Tagliani said: "What became very interesting for me, once I started doing sports car racing, is that a lot of doors opened up. I had three, four calls come in right away and more over the past couple of weeks to do sports cars and I'm really liking that".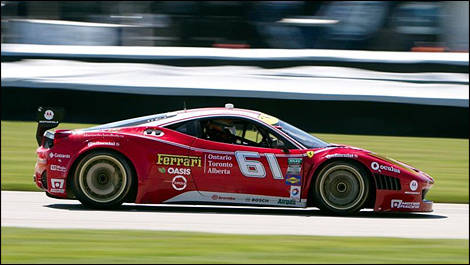 No. 61 R.Ferri/AIM Ferrari
Since Player's was forced to cease their sponsorship in motorsport, Tagliani has been working hard every year to find money needed to go racing.
"Drivers today need to find money to race, a lot of money, and you have to be a driver, a sponsor hunter, out trying to promote yourself to find more money and all of these things just to keep yourself in IndyCar," he said.
"I've had some other interesting developments come my way in sports cars – one that might shock people – that could dictate where I end up racing next year. I can't say anything about it, but if it happens, it would be a huge thing for me personally and for my career," he added.
The Quebec native admits he does not know in which series he will race in 2014. Sports car racing seems to be his priority but the 39-year-old admits that a return to the IZOD IndyCar series and possibly taking in select NASCAR Nationwide series events could happen.
"I never want to turn my back on IndyCar; I'd like to do the Indy 500 each year because I know I can do a good job for a good team, and I still have some options to drive there full time, but if I can make it happen, I think sports cars is the way to go," he told
RACER
.