Your iPhone is overfilling with good music? Your car doesn't have an MP3 input? You don't like to switch from one radio channel to the other? Griffin's AirCurve is for you.
AirCurve is an acoustic amplifier that can set you free of all radio wires and frequencies standing between you and your iPhone. It basically works as a speaker that increases the volume of your phone by over 25 decibels. Thanks to the sticky mounts, it's easy to install either on the centre stack or on the windshield of your car.
I had the chance to test those mounts in different weather conditions over many weeks. I can tell you right away the one I had on the windshield did not like the winter climate. Supporting the weight of the AirCurve and of the iPhone, it only stayed on a month before falling off. The one on the centre stack sticked on no problem.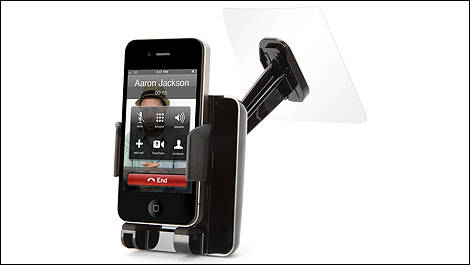 Photo: Griffin Technology
25 decibels?
I was rather skeptical about the 25-dB increase the AirCurve claimed. I really thought sound quality would suffer. Boy, was I wrong. The music coming out of the AirCurve is just as good as the sound coming out of the iPhone.
And I didn't even have to crank it to hear it. It did the trick with the volume set at 50%.
Handsfree device
On top of working as a speaker for your music, the AirCurve functions as a speakerphone, too. You'll hear the other person talking just as well as you hear your songs.
However, I was wondering if on the other end, people could hear me as well as I could hear them. I've asked around and it turns out the sound was better than with the Bluetooth system I normally use.
In short, I didn't have very high expectations for the AirCurve, but in the end, it really impressed me. For the price ($39.99), and because it works with the iPhone's interface – without any wiring – Griffin's latest is worth taking a look at.