It was 1979 and I was a fresh-faced 20-year old recruit with the Vancouver Police Department. Now, 33 years later, I retire from an amazing career that taught me something new each day about humanity – good and bad.
Along the way, I branched into automotive journalism. It was a welcome distraction from the stress of police work and kept me busy on my days off, engaging my mind in matters other than crime and disorder, budgets and operational plans.
Probably more cathartic for me than immersing myself in my writing was the human connection that automotive journalism exposed me to. I truly enjoyed meeting non-police colleagues while learning my way through an industry new to me; let's just say it kept me grounded.
While there's a hole in my wallet where a badge used to be, I still belong to the Vancouver Police Department. The organization that I so proudly served and think the world of, has engaged me as a civilian member.
I have the good fortune of becoming the Fleet Manager for the Department.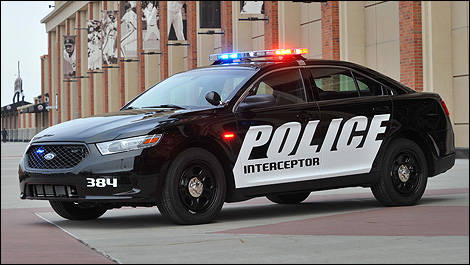 Ford Police Interceptor (Photo: Ford)
As fleet manager, I am responsible for the selection, acquisition, maintenance and safety of the Department's police cars, motorcycles, marine vessels, ATVs, trucks, trailers and more – totaling 599 assets. This is no small undertaking.
A staff of 27 full and part-time employees performs the heavy lifting, including assigning cars and radios to officers as they hit the streets 24/7. In many ways, these are the unsung heroes that keep the wheels turning so the police can keep responding.
Despite the workload involved in managing the police fleet, I intend to continue writing and reviewing cars and trucks. I also plan to write about some of the challenges faced by big city police agencies in keeping their officers mobile in an ever-changing environment crowded with ever-changing expectations.
I look forward to blogging about these challenges and how we rise up to overcome them. Some of the immediate issues to deal with include determining which vehicle should replace the extinct
Ford Crown Victoria Police Interceptor
.
It isn't as easy as popping down to the local auto mall and kicking a few tires. This is a huge public contract for the winning manufacturer, and as a public body, we're bound to follow a fair and transparent selection process.
Topical this week is the acquisition of two military spec'd Gators to assist the police in moving supplies and transporting the injured in the event of a riot. Last year's riot taught us that conventional vehicles are too big and cumbersome to get through disorderly crowds.
More than ever, the "eco" factor plays a role in all decisions. As such, we are experimenting with retrofitting start-stop technology in several patrol cars to determine the effectiveness in reducing our contribution to greenhouse gasses.
We've also adopted hybrid technology in many of our non-patrol vehicles, which is proving highly successful in reducing fuel consumption and securing the ancillary benefits.
As you can see, there's plenty to be done in the role of fleet manager and lots to talk about. I look forward to the future and to keeping you – our faithful and inquisitive readers – abreast of the action and developments in keeping the force with you.