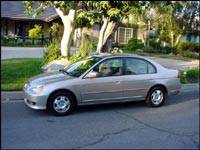 In smaller cars, safety is always one of my concerns. This is especially true as large SUVs with phone using drivers have been known to overlook vehicles that don't ride as high as they do. To help alleviate any fears Honda provides dual-stage front airbags, front side airbags, stability control, ABS brakes, and dual-side impact door beams. It does need a louder horn.
Overall, this is a pleasant vehicle with enough snap to make it capable of blending in on crowded highways and an interior that is acceptable, if not a bit youthful for my taste. Would I want one for my daily driver? Yes, and no. Although I obviously love the gas mileage and size of the Hybrid, I find the fact that you have to sacrifice the fold down rear seat to accommodate the battery pack frustrating at times when I have a long item to carry. I also find the gauges difficult to quickly read and nearly impossible to comprehend while wearing sunglasses. Other than that this is would be a great value and a treat for the environment.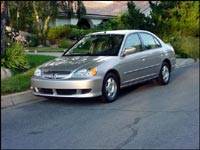 Dad's view: No, this car does not have to be plugged in and, no, this car does not just run on batteries. It runs on a combination of a gasoline engine and batteries and it does this very well. The news here is the engine and motor that combine to power the Hybrid with such efficiency.
The Hybrid's 1.3-liter 4-cylinder gasoline 93 horsepower engine has been highly modified with special ignition, lean burn combustion, two spark plugs per cylinder, and variable value controls. The engine also has low-friction pistons, thin-sleeve cylinder walls, lightweight intake manifold and meets Ultra-Low Emission Vehicle requirements. Can you say clean, and you still get plenty of low speed grunt with 116 foot-pounds of coming online at a low 1500 rpm.