Los Angeles, CA - The new Honda Prelude concept is in the building. After first presenting the model at last month's Tokyo auto show, Honda has brought it to North America to give it a first public showing at the Los Angeles Auto Show.
See also: Tokyo 2023: The Honda Prelude Returns, As an EV Concept
That it did so is good news for those who want to see the reborn Prelude marketed in North America.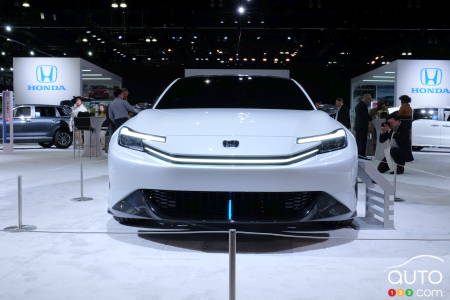 It might be displaying the concept here, but it is not yet ready to share much regarding the powertrain or other details. We know only that it will be a hybrid-electric car. The smart money has the model getting the same powertrain earmarked for the soon-to-launch Civic Hybrid, which uses a 2.4L 4-cylidner with a little over 200 hp to deliver.
Honda has been known to present near-production-ready concepts in the past, without necessarily proceeding to an actual production model. Some caution is thus in order not just about whether the Prelude makes it North America, but about whether it makes it at all. We still like the odds though.