• The Lucid Gravity electric SUV debuts at LA auto show.
Los Angeles, CA - Lucid Motors was at the Los Angeles Auto Show this morning to introduce the third model joining its lineup, the Gravity SUV. While it's been in preparation for some time, it now officially joins a range that already includes two sedans, the Air and the recently debuted Sapphire.
In the current automotive landscape, an SUV was the logical next step, as it's no secret that this is what consumers predominantly demand.
The model adopts the brand's signature styling, and since it has proven successful, what we saw today is an elegant utility vehicle.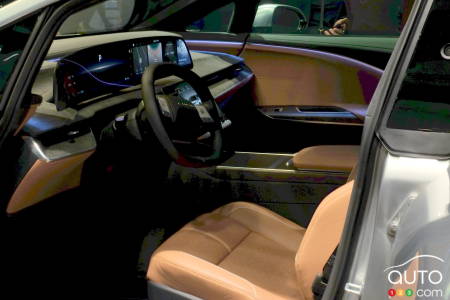 Thanks to its electric configuration that maximizes interior space, the Gravity features a three-row layout capable of accommodating a total of seven adults, a fact Lucid wanted to emphasize. Luxury is omnipresent, as with the earlier Lucid models.
The model has its own chassis but borrows its powertrain from the Air sedan.

"The Gravity SUV represents a significant leap forward for Lucid's world-leading technology and design. Customers will find an unprecedented combination of space and maneuverability, luxury, and versatility, all seamlessly integrated into one remarkable vehicle with the driving experience and range of a true Lucid."

- Lucid Motors CEO Peter Rawlinson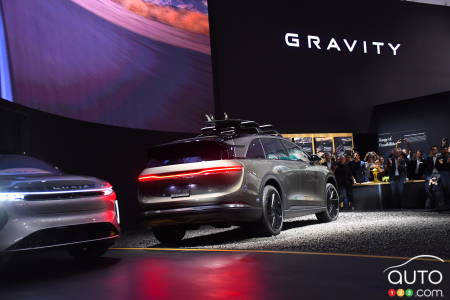 Aerodynamics have, of course, been prioritized, as is customary with an electric model. The design of this SUV is thus very streamlined, down to door handles that re flush with the door panels. The rounded sides of the vehicle are also a Lucid signature, which helps reduce air friction but also makes the Lucid product more recognizable as such on the road.
About that air frectyion: the Gravity has a drag coefficient lower than 0.24 cx, an unmatched aerodynamic profile compared to other three-row SUVs in the industry.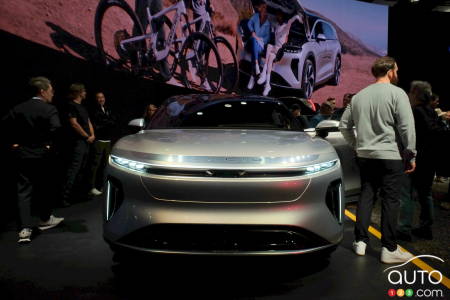 As for the powertrain, it represents an evolution of the one in the Air sedan. Lucid didn't share detailed information, but it did say two battery capacities will be offered, with a maximum range of 708 km. The batteries are the same as those in the Air sedan but arranged differently due to the design requirements of a three-row SUV.
Recharging should be equally exceptional thanks to a 900-volt architecture. Technically, it will be possible to recover 322 km in just 15 minutes, provided you find a charger operating at full capacity.
Technologically advanced, the Gravity SUV aligns with the same design philosophy as the Air sedan: to offer more without accepting compromises.
All of this is, of course, interesting. One can only hope for the success of this budding company in the electric vehicle universe. With high development costs, the financial health of the group remains early, but efforts seem to be in place to make this venture a success.