The second generation Honda Insight was on display today at the
41st annual Montreal Auto Show
, promising shoppers an affordable and cutting edge means to save fuel and do their part for the environment.
The latest Insight boasts many unique features- notable among them being a driver-selected 'eco' mode and a mileage-coaching 'Eco Assist' drive system. Eco Assist helps coach drivers to save fuel by allowing them to see the effects of various driving habits on real-time consumption.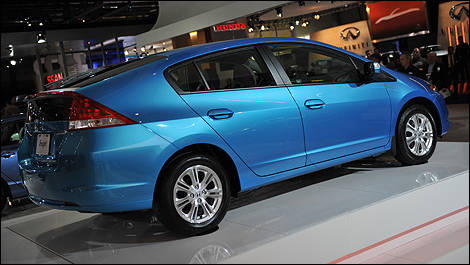 2010 Honda Insight
"Many Canadian motorists, especially
hybrid vehicle
drivers, enjoy trying to get the most
fuel economy
from their vehicles," said Jerry Chenkin, executive vice president of Honda Canada Inc. "The visual nature of Eco Assist is designed to help Insight drivers improve their efficient driving skills by making the hybrid experience both fun and rewarding."
With Eco Assist, the speedometer surround changes color to highlight driving habits that either save or waste gasoline. It turns blue during wasteful driving, and green when drivers are saving fuel.
Insight will be available in LX and EX trim levels, both of which are powered by an advanced 1.3-liter aluminum-alloy i-VTEC engine that drives the wheels through a Continually Variable Transmission (CVT). Honda officials say the drive system is optimized for high efficiency and fun-to-drive performance.
Acura's controversially restyled Acura RL and TL models were both on hand, featuring Acura's advanced Super Handling All Wheel Drive (SH-AWD) system for added all-season performance.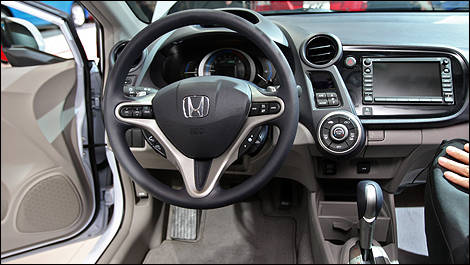 2010 Honda Insight
The TL and RL are on sale now, and the Insight is expected a little later this year.
"Honda Insight offers Canadians great value, a full complement of standard safety features, fun-to-drive performance with the functionality of a hatchback design, and high fuel efficiency with very low emissions for an environmentally responsible car near the middle price range in the Honda lineup" Chenkin added. "With the introduction of the all-new Insight, we're  opening up Honda's hybrid technology to a new group of buyers that previously may not have considered a hybrid car because of cost".
photo:
Philippe Champoux, Matthieu Lambert