Right across the board, the hybrid vehicles available today actually add great amounts to the consumers' costs of operation without doing the environment too much good.
As popular as current hybrid-propulsion systems might be, they're costly to buy and operate and they don't deliver big enough fuel-economy gains in real world driving (at today's fuel prices, most people would have to drive three times as far in a year) to make them financially viable.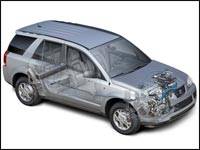 Saturn Vue Hybrid (Photo: General Motors)
So it's interesting that General Motors is promising to alter that scenario with the belt alternator starter hybrid system that it will launch in its 2007 Saturn Vue Green Line model in mid-2006.
The world's biggest car company says the second of its three planned hybrid systems will "deliver a good fuel economy savings and a real payback for consumers."
A "light" hybrid system has been available on GM's full-size pickups for some time now, and the company is developing a two-mode hybrid that will show up in a year or so on its new full-size SUVs.
Between the three systems, GM expects to offer hybrids on about a dozen vehicles.
Though Tom Stephens, the group vice-president for GM Powertrain, couldn't yet supply pricing or actual fuel economy numbers for the Vue Green Line, he does say that the company expects that buyers will "get a real payback on their initial investment over the life of the vehicle."
Pricing and precise fuel economy numbers will have to wait until next spring, he said, after the Vue Green Line's calibrations are finalized.
GM's belt alternator starter hybrid combines sophisticated controls with a precision electric motor/generator mated to the engine. This setup follows the principle that the "best design is uncomplicated and easy to implement," says Larry Nitz, the executive-director of GM's hybrid program.
Nitz says, "This simple, elegant hybrid architecture makes it possible to implement globally on a broad spectrum of vehicle applications at an attractive price," though he couldn't supply any more specifics on that point than Stephens.
According to Nitz and Stephens, the belt alternator starter hybrid's most prominent advantages is its flexibility, since it can be applied to multiple engines with minimal change to the engine or transmission.
In the Saturn Vue Green Line, the system will be mated with GM's 2.4-liter, inline-four Ecotec engine with variable valve timing (VVT) and a Hydra-Matic 4T45-E electronically-controlled overdrive transaxle.
With this powertrain, GM engineers developed the belt alternator starter hybrid to deliver improved fuel economy by performing the following functions:
it shuts off the engine when the vehicle is brought to a stop to minimize engine idling
it restarts the engine promptly when the brake pedal is released
it enables early fuel cutoff to the engine during vehicle deceleration
it captures vehicle kinetic energy during deceleration to help charge the advanced nickel metal hydride hybrid battery, a feature that is usually called regenerative braking, and
it performs intelligent battery charging by opportunistically charging when it's most efficient