Much like
Cadillac
, Hyundai wishes that consumers think of the present and the future when it comes to their brand. Like Cadillac, when remembering the past, they want potential buyers to hold certain ideals in mind. For Hyundai, it's value. For Cadillac, it's "Cadillac."
Back to the Korean juggernaut. Value was a core value that long defined Hyundai and its effects were twofold: I'm buying a Hyundai for its price/content ratio or, I'm buying a Hyundai 'cause it's cheap and it's all I can afford. Hyundais were rarely bought because they turned heads.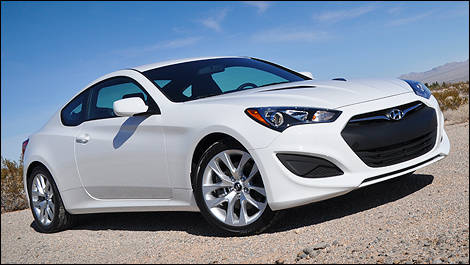 2013 Hyundai Genesis Coupe (Photo: Mathieu St-Pierre/Auto123.com)
As you all well know, those days are far behind Hyundai. I'm in the midst of putting the revamped 2013 Genesis Coupe through its paces and it is the car that inspired this piece. Design is now essential to what defines a Hyundai. The effects of styling are evident given Hyundai's soaring success of the last few years.
Case in point: Fresh from a
CCOTY win at the Canadian International Auto Show
, the new Elantra was briefly the best selling car in Canada in 2011. Regardless of what was going on around the world, the point is that the Elantra was the chosen one, not the
Ford Focus
or
Chevrolet Cruze
. Not to be outdone, the
Veloster
took home AJAC's "Best New Design" honours.
I'm not going to enumerate all the significant awards that Hyundai has won in the last half-decade, including our own
Auto123.com Awards
and the Genesis sedan winning North American Car of the Year a few years ago, but suffice it to say that they're doing something very right. Take a look at their showrooms: Sonata, Accent 4- and 5-door, Tucson, Veloster, Genesis, Genesis Coupe; soon to join the gang, the Elantra GT and later this year, a new Santa Fe.
I recently had a discussion with a Hyundai salesperson and he admitted to me that he had planned to stay with Hyundai for a year. That was 8 years ago. His excitement with the cars was palpable and it's only going to get better.
For a few moments in late 2012, Hyundai will probably boast the fact that they have the youngest line-up in the biz but when that blows over, the dealerships will still hold some incredible products.
Technology also plays a key role in what makes a Hyundai, well, exactly that. Noticed "GDI" badge on a few cars? That stands for "Gasoline Direct Injection". Hyundai will continue to exploit and refine the gasoline internal combustion engine by spreading GDI as well as using turbocharging to get a little more oomph out of the mills. Hybrids will continue to be featured as well.
For Hyundai, the future of mobility lies in hydrogen power. They've invested heavily in R&D and are convinced that the very plentiful element that is hydrogen, could be a solution to our growing needs for energy. We'll hear far more on the subject as the months and years go by.
About the present, numbers don't lie. In January of 2012, 4 of the 30 best-selling nameplates in Canada carried the Hyundai badge. That's over 13% of all cars sold in January of this year. The comparison game says this: These are same results as Ford and General Motors. Only Toyota and Chrysler did better with 5 out of 30.
I can't really add much more to that; Hyundai are in the big leagues and one or one more will show up in your neighbourhood sooner rather than later.