Juan Pablo Montoya got back to pace fairly quickly on his IndyCar test return, almost equalling the lap times set by his future teammate, Will Power at Sebring yesterday.
Power set his best times in the morning session before handing the Dallara-Chevrolet to Montoya.
The Columbian was impressive in finding his marks around the road course in what was his first outing in a single-seater in more than seven and a half years after his Formula 1 departure.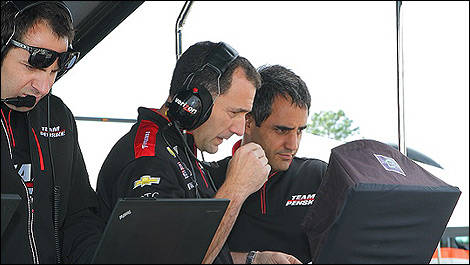 Juan-Pablo Montoya with the Penske engineers. (Photo: IndyCar)
"He was within a few tenths of Will in the first outing," saidPenske Team president Tim Cindric. "It was pretty impressive really.
"We put him out on old tyres just to learn where the gearshifts were and then put him back on Will's tire and he was within a couple tenths right out of the box."
Montoya rated his performance as "an eight" out of 10.
"The biggest thing is that everything is still happening really fast," he said. I'm surprised the speed has been pretty good. Just a few too many mistakes."
For his last run in the car, Montoya practiced four standing starts near the exit of the pit lane.