Ryan Briscoe and Graham Rahal drove the Indianapolis Motor Speedway road course yesterday and according to their first impressions it seems they were impressed at the potential of the layout.
The test, which was organised jointly by IMS and IndyCar, was designed as to gather information about the road course layout ahead of a planned $100 million upgrade to the facility.
Rahal and Briscoe ran laps in both the clockwise direction as used by Grand-Am and, previously, Formula 1, and counter-clockwise as used by MotoGP.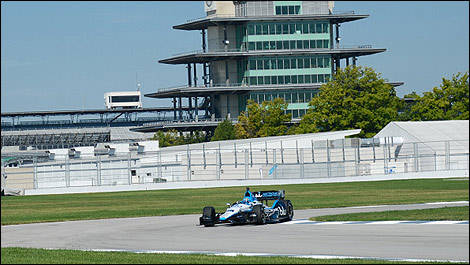 Graham Rahal. (Photo: IndyCar)
"It's a little different going the opposite way around, but it's actually not a bad track," Rahal said.
"When I showed up, I thought we shouldn't use Turn 1. We shouldn't run on the oval at all. But [now] I think that's what is going to make the racing so good.
Briscoe echoed Rahal's sentiments about the venue's potential for good racing.
"The track as currently set up has a lot of high-speed corners, and going clockwise gives you a different feel," he said. There are a couple of areas that could be addressed to increase passing zones, which would make the racing great."