Besides hiring Tony Kanaan, Chip Ganassi Racing did surprised everyone by announcing that it was switching Honda to Chevrolet engines for the 2014 IndyCar season.
This means that starting next year, both Ganassi Racing programmes, in IndyCar and NASCAR, will be aligned with the same engine manufacturer.
"We wanted the opportunity to try to consolidate our manufacturers [in both programmes] and try to be part of a winning effort," declared Chip Ganassi.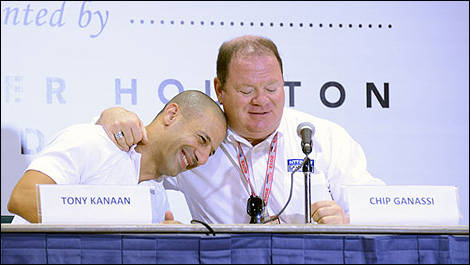 Tony Kanaan and Chip Ganassi. (Photo: IndyCar)