Current Verizon IndyCar Series' champion Scott Dixon believes that even an average start in St. Petersburg would be better than having to fight his way back into the title battle later in the season.
The three-time series' champion is optimistic about this new season and he is also enthusiastic about the arrival of veteran Tont Kanaan that will be sitting alongside him on the starting grid.
Despite Ganassi Racing's move from Honda to Chevy power during the off-season, Dixon doesn't believe that he needs to be concerned and that his experience as well as Chevy's track record will overcome the glitches that are bound to arise at the start of the season.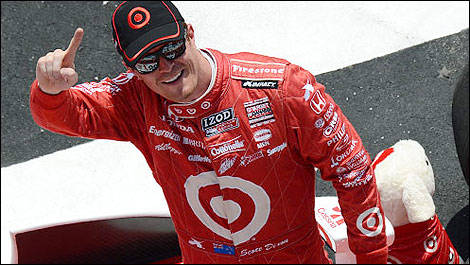 Scott Dixon, 2013 Champion IndyCar. (Photo: LAT/IndyCar)
"Of all the things I think we need to do, I would choose having a decent start to the year," he revealed.
"I think if we can hit the ground running it would make the rest of the season a lot easier. It seems like we've almost fallen into this habit of starting slow, or getting behind in the points early and then needing to dig our way out. We can't always do like we did last year and close strongly."
"We need to be more consistent and understand every race pays out point," he surmised.
"You don't want to be forced into that direction where a bad start taints the entire season. I'd rather have an average start to the year if it means we don't have a bad one."