From press release
IndyCar series driver Mikhail Aleshin was badly injured in a multi-car crash during the final practice session at Auto Club Speedway.
The doctors at the Loma Linda University Medical Center diagnosed a concussion, fractured ribs, a broken right clavicle and chest injuries, according to the series' medical consultant Dr. Terry Trammell.
Aleshin was admitted to the hospital and listed in serious but stable condition.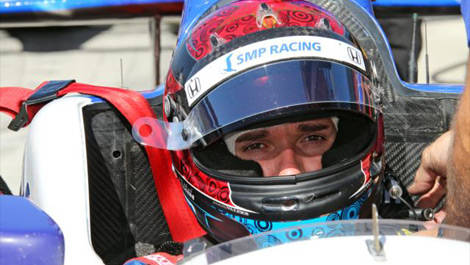 Mikhail Aleshin (Photo: Richard Dowdy)
Aleshin's car went airborne after spinning into Ganassi driver Charlie Kimball and flew into the safer barriers.
Kimball was not injured. He will start tonight's race in fifth position.
Aleshin, 27, of Moscow, is in his first season in the IndyCar series.