INFINITI will unveil a stunning new high-performance concept car during the 2018 edition of the Pebble Beach Concours d'Elegance. The Prototype 10 is a daring electric-powered car that provides a window into the brand's desire to, in its words, deliver driving pleasure and thrilling performance from electrified powertrains.
The single-seat Prototype 10, INFINITI has a cool, clean and forward-looking design. According to INFINITI, the concept is a natural evolution of the form language first seen in the INFINITI Q Inspiration and hints at future design cues for the brand.
INFINITI has previously announced that it plans to electrify all of its new production cars from 2021 onwards.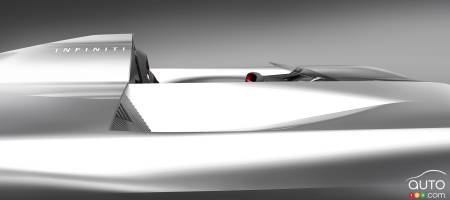 "The INFINITI Prototype 10 echoes the layout and design of some of the most evocative car designs of all time, where power was celebrated through high-powered single-seat competition cars. Our new concept speaks of an electrified future, something which is reflected in its form and details."

- Karim Habib, Executive Design Director, INFINITI
INFINITI's new concept will be revealed at Pebble Beach on Aug. 23. The automaker previously introduced a special one-off retro-style car at the prestigious event, the remarkable Prototype 9.