Expectations are high for Volvo's electric performance division. Polestar already has a few models in the pipeline, and we should start to see them surface in the next two years.
Already we've learned that the all-electric Polestar 2 compact car will offer a range of 560 km; it should be ready to go for 2020. As for the Polestar 1, which made its first public appearance at the recent Goodwood Festival of Speed in England, it will be a plug-in hybrid model.
While that future Polestar 2 model is clearly conceived to take on the Tesla Model 3, the initial offering from the division is taking aim at the Tesla Model S.
The pricing, for one, will be very high – higher, in fact than the Tesla it aims to conquer. The Pebble Beach event makes sense then as the occasion for Polestar to officially introduce its model to American consumers.
Because Pebble Beach, well, smells of money. Lots of money.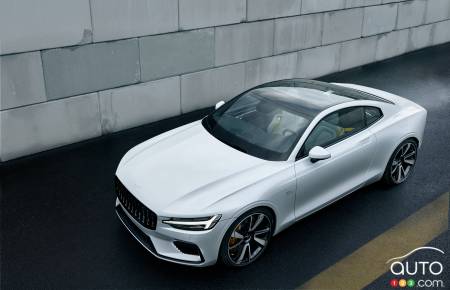 There's another reason Polestar chose this event in particular. The automaker has indicated that the United States is where interest in the product has been strongest of any market around the world.
Polestar says 200 American customers have already forked over the funds required to reserve their copy.
Obviously the company has a long way before attaining the level of interest and enthusiasm that Tesla benefits from. Still, the model, and the brand, represent a welcome addition to hybrid and electric car segment.
The Polestar 1 will be appearing at several sites and events surrounding the actual Pebble Beach Concours d'Elegance, for example at the Quail, and of course at the Concours itself on the last Sunday.