Infiniti has just released the first image of its
Q30
compact SUV, which is scheduled for unveiling on September 10th at the upcoming Frankfurt Auto Show.
The Q30 design, which may be described as ''atypical'', is meant to convey "a cross between the dynamic design and sportiness of a coupe, the roominess of a sedan, and the advantageous ride height of a crossover". According to Infiniti officials, the attractive design, and use of innovative materials and hand-finished quality of the Q30 is designed to seduce the new generation of luxury-vehicle buyers.
The Q30 concept offers a glimpse of Infiniti's vision for the future, as it tries to find its place among the world's luxury vehicle brands.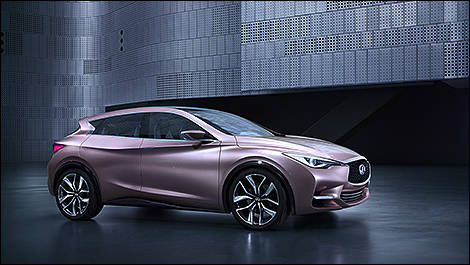 Photo: Infiniti