Infiniti will host the world premiere of its new Q30 Concept on September 10th at the Frankfurt Auto Show in Germany. This compact car is aimed at a new generation of premium customers.
According to Infiniti, the Q30 Concept represents the latest evolution of the design philosophy introduced with the
Infiniti Q50
in Detroit earlier this year. It's said to deliver head-turning looks, innovative materials with precise fit and finish, and passionate craftsmanship.
"Q30 Concept is slender, sleek and seductive," said Alfonso Albaisa, Infiniti Executive Design Director. "When you see speedy big cats, like cheetahs, they have a slenderness and a lightweight stride. It's almost like they're floating. That's the muscularity we were aiming for with Q30 Concept."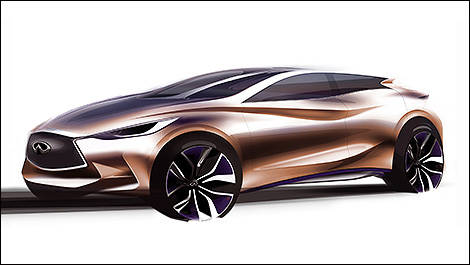 Photo: Infiniti