At the onset of the 2000s, INFINITI made rear-wheel drive a central element of its vehicle strategy. The high-end automaker was intent on giving itself equal weapons when going to war with its German rivals.
Since then, sedans and coupes bearing the INFINITI named have been powered by rear-wheel drive systems.

According to new reports, all that will change in 2021, and if you're looking for one reason above all others, think electric.
Nissan's decision to change tack so dramatically is driven by the fact that the FM platform that underpins its current vehicles is getting long in the tooth, and could not be upgraded to incorporate powertrains that include both conventional and electrical motors. A new architecture is thus an unavoidable necessity.
Australian magazine GoAuto reported the news after speaking with François Bancon, INFINITI's product strategy vice-president, who told them tha FM platform had to go because "you need a battery, you need an electric motor, it's a different package."
Last month INFINITI announced that it would only be introducing electric-powered vehicles beginning in 2021. The company is currently working on a new architecture that could accommodate the new systems, but it won't be ready before then.
This means that the Q50, Q60 and Q70 models will continue on in their current generations. For the latter model, that will take its lifespan to over 10 years. What's more, that it will even be renewed remains uncertain, as sales have not met the company's expectations.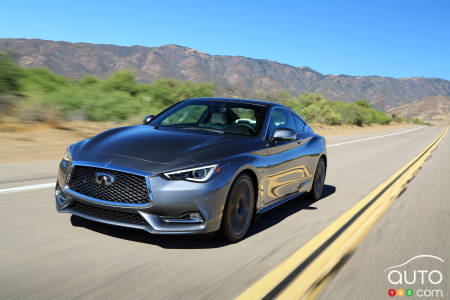 As for the new platform, details are scant if not non-existent for the moment. We can say that it will operate with all-wheel drive, likely equally distributed to the front and back wheels. It's also reasonable to expect that we'll be seeing hybrid, plug-in hybrid and fully electric variants.
While it's clear that the new generation of INFINITI sedans and coupes will be more energy-efficient, we expect their performance capabilities will be upgraded as well. We're talking about INFINITI, after all.