Since the emergence of international climate-related issues, all sectors have seen significant developments in terms of ecology. The tire sector is no exception, and brands are developing tire models that are better adapted to the challenges of the future.
Tire-related issues
Tires are necessary and hard to do without, but they are at the heart of some very significant public health and environmental issues. Their manufacture consumes raw materials, some of which are derived from petroleum hydrocarbons; their use emits particulates; and their end-of-life transforms them into bulky, potentially polluting waste.
In many countries, regulations are evolving to enable individuals and professionals in the industry to reduce the impact of these consumables on the planet, while maintaining essential safety standards. In Canada, for example, government programs for the collection of scrap tires were established after major incidents involving tire storage facilities. After highly flammable materials caused fires, millions of dollars had to be spent to clean up the area.
Since then, Quebec has implemented numerous policies, including the first "Program to Promote the Reuse, Recycling and Energy Recovery of Used Tires" in 1993, followed by several other integrated management programs and the introduction of a $3 environmental fee on the purchase of new tires. This fee was revised in January 2023 to $4.5 for passenger tires and $6 for truck tires to fund the various programs.
Depending on the country, tire processing and recycling programs are being set up, creating an entire industry.
Tire innovations
When it comes to ecology, the major tire manufacturers are focusing on two main types of innovation: the production of tires with extended service life and tires made from recycled (or bio-sourced) materials.
These innovations are driven not only by public interest, but also by national and international standards to reduce greenhouse gas (GHG) emissions.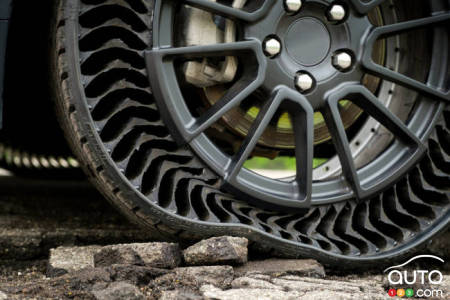 For the sustainable side, we told you in 2019 about GM and Michelin who joined forces to develop and market an airless tire called Uptis (for Unique Puncture-proof Tire System). Four years later, we are now approaching the date of sale to the general public of these products, which aim in particular to reduce "the number of tires thrown away following a puncture" and therefore induce "fewer raw materials consumed to produce replacement tires. For this final stretch, the tires are being tested in real conditions with different companies, for example DHL in Singapore on nearly 50 vehicles and 40 vans from the La Poste group in France.
It should be noted that Goodyear is also positioning itself on more ecological tire choices. Their stated objective is to market a "100% sustainable" tire by 2030.
This year, the brand announced that it had developed a demonstration model made up of 90% materials durable</a>, thus demonstrating "its ability to produce a passenger tire with a high level of sustainable materials. ". The latter was also designed to reduce rolling resistance and therefore reduce the vehicle's fuel consumption.
What makes it different from a conventional tire? The use of bio-sourced products to replace or reduce the use of petroleum-based materials: soybean oil, rice hull ash, recycled polyester, bio-renewable pine resins, etc.
Goodyear and Michelin have both announced an increase in renewable resources by 2040 and 2048.
Localizing production
In Canada, as in other countries, there's a growing desire to relocate part of tire production within the country. In addition to the economic benefits (jobs, taxes, etc.), this "local" location also has ecological advantages. Tires that travel less to get from the place of production to the place of consumption have a reduced carbon footprint.
The Bridgestone plant in Joliette, Quebec, employs over 1,250 people and produces up to 17,000 tires a day. Built in 1965, the plant is described by the brand as "one of the greenest plants in the Bridgestone Group". A key historical player in the region's business, it is also one of the Group's innovation drivers.
Recently, we've seen the emergence of local productions which, often independent of the major manufacturers, combine short distribution circuits with the design of more environmentally-friendly tires.
This is the case, for example, of the Leonard brand marketed in France by Norauto, which offers tires made from 80% recycled material, enabling "a 63% CO2 saving in manufacturing" (compared with a new tire, according to the manufacturer). Located in the north of the country, the company has set up shop on the former Bridgestone site in Béthune, enabling part of the site to be reindustrialized and some of the company's know-how to be preserved, with around 30 of the former plant's 800 employees returning to work.
Reconditioned tires (or retreads) have a dual benefit, since the waste produced in the country remains in the country to be reused and transformed into new tires, rather than being stored unnecessarily or destroyed. One of the advantages of the circular economy is that raw materials, end products, customers and waste are all located in the same area.
From major brands to emerging names, these initiatives prove that the tire industry has no shortage of resources to innovate and offer more sustainable products.
Focusing on tire quality and appropriate driving habits
Ecology can also be found elsewhere, notably in driving behavior. The way a vehicle is driven, for example, can help to save rubber and thus reduce pollution, just as it can increase the risk of damage to a tire and thus shorten its lifespan.
Here's what you need to do:
Regularly check tire pressure when the tires are cold: you should use the reference pressure supplied with your vehicle as a guide, as over- or under-inflation can lead to excessive tire wear.
Check balance and geometry: to avoid abnormal and asymmetrical tire wear, and to limit vibrations and therefore stresses on the tire,
Avoid excessive speeds: which will tend to increase the stresses applied to the rubber,
Wait until you reach the legal wear limit, no more, no less: on this point, make sure you comply with current standards. Changing tires too late is a major safety risk, and changing them too early means turning a product that can still be used into a waste product too soon.
It's also worth noting, even if it seems obvious, that the smaller the vehicle, the smaller the tires, the smaller the amount of rubber needed to produce them! According to Recyc-Québec and the Quebec program for the management of end-of-life tires, "an increase in the quantity of end-of-life tires has been observed", and this increase is attributed in part to the increase "in the average weight of a tire", "due to the growing popularity of SUV-type vehicles".
The quality of the tires purchased also counts. Even without going so far as to choose an innovative or reconditioned tire, some profiles are more durable than others. The number of kilometers they can cover before reaching the wear indicator varies enormously. The French consumer association UFC que Choisir compared 50 tires, and the difference is clear! The longest-lasting model reached 71,500 km, while the latest model barely managed 23,100 km. The comparison average was around 39,000 km.
Add to this the fact that tires have an impact on the vehicle's fuel consumption and the optimization of their performance over their lifetime, so this criterion should be checked when purchasing a tire profile, whatever the brand.