Here is our third feature to commemorate the 20th anniversary of the tragic passing of Brazilian Formula 1 champion, Ayrton Senna.
Auto123.com spoke with Steve Hallam, who worked alongside Senna for several years. Now the General Manager of TEKNO Autosports in Australia, Hallam spent 27 years in F1, including 18 at McLaren as head of race operations.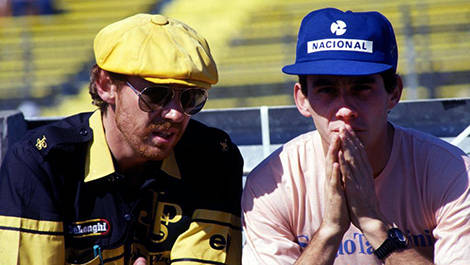 Steve Hallam with Ayrton Senna (Photo: Steve Hallam's personal archives)
"I worked as a track engineer for Ayrton Senna from the beginning of 1985 until the end of 1987 at Lotus, and then from 1991 to 1993 at McLaren," Steve Hallam told us.
"We could see him evolve as a race-car driver. He kept looking for what he needed to do to become a complete racer," Hallam continued.
"He wanted to have an excellent knowledge of his car. He knew he was not an engineer, but he wanted to understand how things worked to be able to communicate more efficiently with the engineers."
"Before we used data acquisition systems, he could easily recall all the various numbers and figures from the gauges. We then installed a wheel sensor that provided us with the speed of the car. Ayrton was able to tell us information such as: 'I gained one mile per hour at the apex of this corner.' He had the remarkable ability to work out what he needed to do to help us," Hallam continued.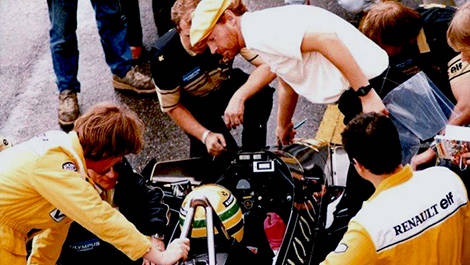 Steve Hallam with Ayrton Senna (Photo: Steve Hallam's personal archives)
The Lotus team then implemented one of the first data systems in the car.
"Most drivers found it pretty intrusive, but Ayrton immediately recognised it was good for him. The system helped us quantify the areas where we could improve the car. He looked at the data on the screen with us and he was able to pinpoint specific things the car was doing," Hallam told Auto123.com.
Ayrton Senna's attitude changed at the beginning of 1987 when he was about to race the yellow Lotus-Renault Camel car.
"Ayrton had previously proved he was the quickest driver around. He'd set 15 poles and four wins in the previous 32 Grands Prix with us. However, he stared the 1987 season differently. He was more mature; he had a new attitude. It's like if he'd said: 'Now, I am ready to win the title.' He would still put the car on pole, but he now knew he could not win all the races. His new goal was to finish the race at the best position possible. That was a major difference," Hallam explained.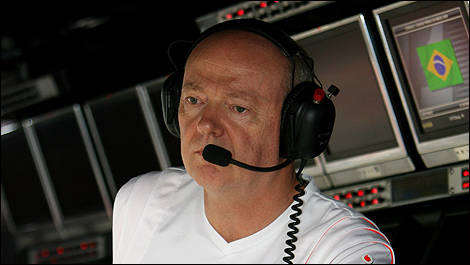 Steve Hallam, McLaren F1 Team (Photo: WRI2)
However, Lotus -- now running on a limited budget -- knew it could not keep Senna forever. And Steve Hallam moved to McLaren.
"Ron Dennis of McLaren saw that difference in Ayrton's attitude. He hired him for 1988 and he immediately won the title that year despite a massive challenge from his teammate, Alain Prost. Ayrton had become extremely tough, mentally. He was able to overcome the obstacles and fight back. His 1991 championship against Nigel Mansell is a classic example of his absolute winning determination," Hallam recalled.
That year, Ayrton Senna scored points in 14 of the season's 16 races, including six wins. Meanwhile, his archrival Nigel Mansell scored points in just 10 races, including five victories.
"The sweetest moment came with his maiden F1 victory at Estoril in 1985. He clearly was the master of the elements that day in the downpour. He made it look so easy in front of the stars. The other drivers could not compete with him at this level. Despite this, he remained very modest about his brilliant performance. Donington, 1993, was also very impressive, but Estoril remains the best moment for me," Steve Hallam concluded.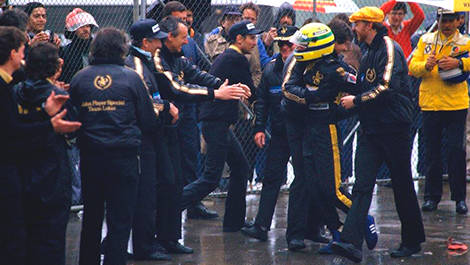 Steve Hallam and the Lotus team celebrating Ayrton Senna's first victory in Portugal. (Photo: Steve Hallam's personal archives)