The Ford Model A of 1928-1931 (not to be confused with the 1903-1904 car -- Ford's first-ever automobile) entered production in the fall of 1927, and hit the market on December 2nd of that year. It replaced the iconic Model T, which was last built on May 26th.
Equipped with a water-cooled, L-head, 4-cylinder engine that produced 40 horsepower, this Model A came with a 3-speed manual transmission with reverse, and could reach a top speed of 105 km/h. Offered in various configurations and body styles, not to mention four colours (red, grey, black, and green), it ranged from $385 to $1,400 USD.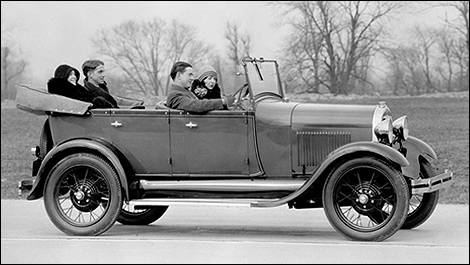 Ford Model A. (Photo: Ford)
On February 4th, 1929, Ford sold its one millionth Model A; by July 24th of that year, sales had doubled. Overall, nearly five million units found takers.
The Model A's direct successor was the Model B.
Source: Wikipedia