Saving Lives Never Looked So Good
It's tragic but true that every day hundreds of pedestrians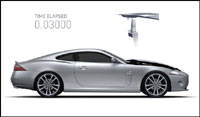 Jag's new hood system aims to reduce pedestrian injuries and death.(Photo: Jaguar Canada)
are seriously injured or killed in accidents with automobiles. Despite being a serious problem throughout the world, it is a phenomenon that is widely ignored by the mass media. For most, when it comes to automotive safety, the focus is isolated to occupant safety, and especially to children riding on board. In North America there are currently no regulations pertaining to pedestrian safety.
The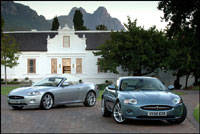 Europe's social consciousness played a big part in Jaguar's pedestrian solution. (Photo: Jaguar Canada)
situation of pedestrian protection awareness is slightly different in other areas of the world; since the mid 1990s the FIA, Europe's automotive governing body, has been trying to tackle this problem. In the same way that a car must pass federal safety standards for occupant protection in front and side impacts, cars to be sold in Europe must be subject to a pedestrian impact test. While no vehicle to date has been retracted from sale for a poor pedestrian score (unlike a poor crash test score), the negative image associated with such has caused automobile manufacturers to progressively change the design of their cars to fare better in the simulated tests.
Have you noticed the way that many new 'global cars' are styled? Quite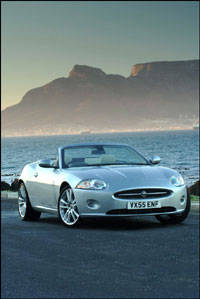 Could you imagine what the stunning XK Convertible would like with a non-active, pedestrian friendly nose? Certainly, nothing like this. (Photo: Jaguar Canada)
a few of them have blunt, rounded noses and high-mount hoods in order to provide cushioning space between the hood and the engine. Others take less drastic measures, such as relocating windshield wipers and windshield washer jets under the leading edge of the hood, while hood ornaments and headlamp washers have all but disappeared. Cars such as the new Honda Civic, new Yaris, new VW GTI and even Volvo's updated XC90 sport utility vehicle are just a few of many that have such built-in life-saving characteristics.
While it may seem trivial to complain about the fact that these features save lives, there are some consequences to be paid; the inherent high hood lines and resultant bulbous noses is proving to be taxing to those who design the cars. These particular characteristics are difficult to accommodate into a conventional front end design, and have proven especially challenging to adapt in two particular types of vehicles: sport utility vehicles, due to their vertical, upright noses, and, more drastically, sports cars. For a moment, picture the snub-nose of a Toyota Yaris attached to the sleek, and sumptuous profile of an Aston Martin, or a Porsche: it just doesn't work!
As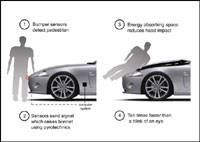 Hood pops up. Preserves life and style. (Photo: Jaguar Canada)
only makes sense, quite a few automakers are in a predicament; they can either style their cars as they always have and accept being tagged as socially irresponsible, or throw all design ethos out the window and risk losing their loyal clientele. For Jaguar, one of the most style driven brands, not to mention a marque with a long and illustrious history of beautiful automobiles, neither option was particularly appealing. From this problem a solution arose, Jaguar's industry-leading Pyrotechnic Deployable Bonnet System, which made its debut on the 2007 Jaguar XK.