From press release

Announced today, Juniper Networks will be the presenting sponsor of the F1600 Duals, a double-header race format featured at this weekend's Castrol Victoria Day SpeedFest at Canadian Tire Motorsport Park.
"I am glad to be able to make this announcement today," stated series promoter Jason Sharpe.
"Juniper Networks came into the series this year as a marketing partner to driver Max Hanratty and we are thrilled that they have decided to expand their involvement to the benefit of all of the fans and competitors" he added.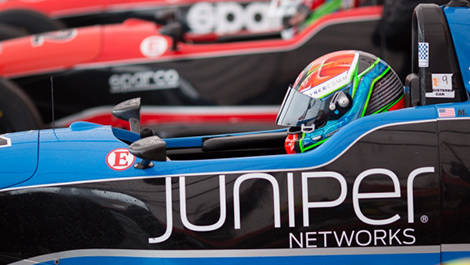 Juniper Networks will sponsor the F1600 Duals. (Photo: Michael Haley)
The F1600 Duals presented by Juniper Networks are races 1 & 2 on the newly created F1600 Super Series calendar. Canada's best formula car racers will come together four times over the course of the season and do battle at some of the biggest sporting events in the country.
"I am really excited to be coming back to Canada for the first race of the Super Series after a 2nd place finish in the Toyo Tires Championship season opener a couple of weeks ago," stated Juniper Networks driver Max Hanratty, of Hartland, WI.
"I think it's great that Juniper Networks stepped up and sponsored the race and I am really going to try and bring them a win this weekend."
The 30-minute races will be held on Saturday, May 17, at 5:10 pm and Sunday May 18, at 5:15