Active people and small families across Canada have fallen hard in recent years for the hatchback format to meet their daily transportation needs, and the selection of available five-door compacts, wagons, crossovers and SUVs has grown correspondingly.
The embarrassment of riches for consumers includes a number of options from Kia, the Korean automaker known for giving owners a lot for their money (matched in recent years by increasingly attractive styling). Not only that, but you may want to check out J.D. Power's ranking of best initial quality to see which make has come out on top, for a second consecutive year. That's right, Kia.
Between the Rio 5-Door sub-compact (too small?) and the Sorento midsize SUV (too expensive?), Kia offers five different affordable hatchback models, with base prices ranging from about $20,000 to $25,000. All are practical and suitable for small families with two children. Not sure which one's for you? Let's look at the possibilities!
LX+ man.: $19,695
LX+ auto.: $20,895
EX: $22,395
EX Luxe: $25,195
SX: $29,895
The Forte5 may not be the most popular compact hatchback on the market right now, but it still has many qualities. This sporty Korean comes with a 2.0L naturally aspirated engine producing 164 hp (mated to a 6-speed manual or automatic transmission) or optionally a 1.6L turbo mill rated at 201 hp (paired with a 7-speed dual-clutch transmission). It impresses with 657 litres of cargo capacity, which is slightly more than what you get in the new Kia Niro crossover.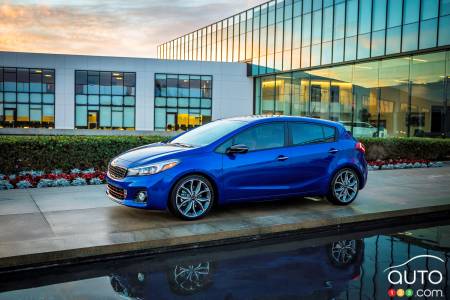 LX: $19,995
EX: $21,595
EX+: $23,395
EX Premium: $25,995
SX Turbo: $25,995
EX Tech: $28,395
SX Turbo Tech: $29,995
The Soul continues to find a receptive audience among those who want very distinctive styling that doesn't cut into practicality; with 532 litres of cargo space it can accommodate a lot of luggage. On the other hand, space in the rear row of seats is somewhat limited. The vehicle meets varying needs with three distinct powertrain choices: a 1.6L 130-hp engine, a 2.0L version offering 161 hp, and a 1.6L turbo engine delivering 201 hp.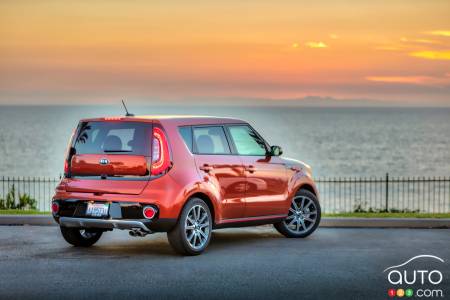 L: $23,195
LX: $24,695
LX 7-seat: $25,995
EX: $27,795
EX Premium: $29,795
EX Luxury: $31,295
The arrival of the all-new Niro and the redesign of the Sportage have served to eclipse the Rondo somewhat. Fitting the profile of a compact wagon, it's powered by a well-suited 164-hp engine (except maybe when pulling seven occupants), and it consumes on average just under 9.0L/100 km. The optional third row shrinks the trunk space down to 232 litres; otherwise, depending on the second-row seat configuration cargo capacity is 912 or 1,840 litres.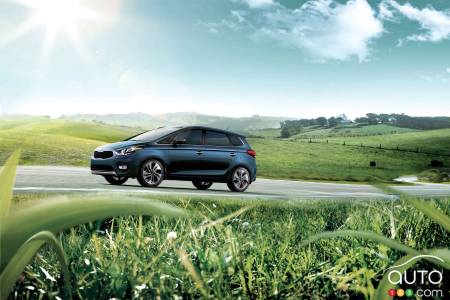 L: $24,995
EX: $27,495
EX Premium: $29,095
SX Touring: $32,995
The new Niro small crossover stands out with its hybrid powertrain. That powertrain generates 139 hp and 195 lb-ft of torque, while consuming only 4.5L/100 km (city) and 4.8L/100 km (highway). Unfortunately, no all-wheel drive version is available. As for the trunk, it's about 25% smaller than what you get in the Sportage, but it's still spacious with 635 litres in total capacity, which climbs to 1,789 litres with the rear seats down. Take a moment to read our review of the new 2017 Kia Niro!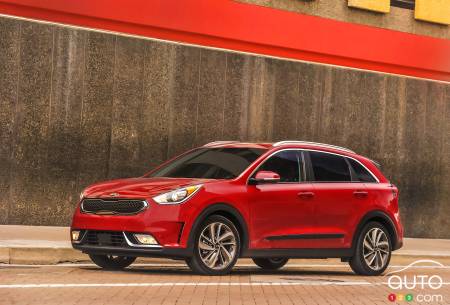 LX: $25,095
LX TI: $27,295
EX: $30,595
EX Premium: $33,995
EX Tech: $37,695
SX Turbo: $39,595
The Sportage is a very popular model in the Kia lineup, and the third-generation of the SUV (introduced in 2017) is well-placed to take on the increasingly heavy competition duking it out in the compact SUV segment. Contrary to the other five-door Kia models looked at above, the Sportage is available with either a two-wheel or four-wheel drive. There are also a 2.4L naturally aspirated engine (181 hp, more than sufficient in 95% of driving situations) and a 2.0L turbo that generates 237 hp. Cargo capacity ranges from 798 to 1,703 litres, and towing capacity is 2,000 lbs. Read our review of the 2017 Kia Sportage!