As reported by Koenigsegg
Koenigsegg
celebrate 15 years of making dream cars, by unleashing their latest jewel - the Koenigsegg Agera. A new supercar aimed to take the Koenigsegg experience to the next level, both on the road and the track.
Agera, the Swedish verb "to act", has been chosen as the name for Koenigsegg´s latest super creation, as it symbolizes the Koenigsegg philosophy well. Koenigsegg is always striving forward, seeking challenges beyond limitations. The new supercar Agera is an outcome of that creative process and its functions respond very well to the given name.
When we believe in something, we do it. We act. the car also has to act, when commanded to unleash its performance, forcefully and fawlessly. The development of the Agera has been evolutionary, following the Koenigsegg tradition of continuous improvements, by honing and perfecting the end result, all based on previous experience and innovative mindsets. The focus when developing the Agera was to maximize, driving experience, cornering speed, braking and adaptability, says Christian von Koenigsegg.

A testament to time
The Koenigsegg Agera is a testament to time. The original shape and concept of the Koenigsegg CC, created 15 years ago, is still valid, fresh and highly competitive today. The Agera still stay true to the original philosophy, shape and size of the original CC. At the same time, it looks, feels and performs like something belonging to the future, with all new content.
A Supercar is not better than the tires it use, as it is the only link between the road and the car. Therefore Koenigsegg has a deep and long term collaboration with Michelin, when it comes to tire development. The Agera program will take this collaboration to the next level and is expected to set new standards when it comes to overall performance -wet as well as dry handling.
The Agera is as wide at the front as in the rear of the car. This gives very good balance in corners and minimizes body roll.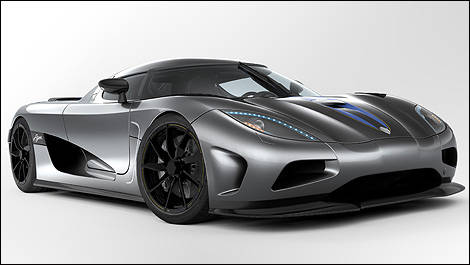 (Photo: Koenigsegg)