Press release
Alcoa Auto Wheels has been selected by Automobili Lamborghini to supply lightweight wheels for the Murciélago LP 670-4 SuperVeloce (SV). The forged aluminum wheels reduce un-sprung weight and contribute to the SV's 100kg mass reduction over the standard Murciélago.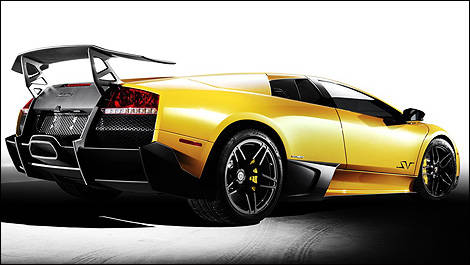 Lightweight Alcoa forged aluminum wheels contribute to the 220 pound mass reduction of Lamborghini's new Murcielago SV supercar over the standard Murcielago. Advancements in forged aluminum wheel technology enabled a 20% weight reduction over a cast aluminum wheel, benefiting handling and ride. And the superior metal structure of the five twin-spoke design improves strength and durability.
"The new Murciélago SV is the product of a substantial cross-car weight reduction program and forged wheels are vital to meeting this goal," explains David Yates, marketing manager for Alcoa Auto Wheels - Europe. "The engineering behind Alcoa's forged aluminum wheels enables a 20 percent weight savings over a comparable cast aluminium wheel, benefiting handling and ride."
The exclusive five twin-spoke design results in a superior metal structure that improves strength and durability, offering the opportunity to create very strong and lightweight wheels. The 18"x8.5" front wheel weighs just 8.9 kg. The 18"x13" rear wheel weighs just 12.3 kg. Lowering the unsprung mass at each corner results in more responsive steering, braking and suspension input all while optimizing performance and efficiency for drivers of the SuperVeloce.
"The SV application highlights Alcoa's commitment to developing a lighter and better wheel for automotive OEMs," concludes Yates.
Alcoa has been at the forefront of developing, producing and supplying forged aluminum wheels to the global automotive industry for 60 years. The Murciélago SV project signals the latest Lamborghini and Alcoa collaboration since the super exotic Reventón program.
photo:
ALCOA