After launching the
LF-LC concept in Detroit back in January
, Lexus today revealed the LF-LC Blue concept at the Australian International Motor Show in Sydney.
Named after its Opal Blue exterior, which is inspired by the lustrous base colour found in the naturally occurring semi-precious opal stone of outback Australia, the Lexus LF-LC Blue concept benefits from an ultra-lightweight body made of carbon fibre and aluminium alloy materials. It also sports vertical front and rear fog lights with a fading dot matrix pattern, a glass roof, and quadruple exhaust.
The Lexus LF-LC Blue concept's Advanced Lexus Hybrid Drive system features a powerful and efficient Atkinson-cycle combustion engine mated to a high-energy battery pack for an output of 372 kW (500 hp).
The technology-laden Lexus LF-LC Blue boasts twin 12.3'' LCDs controlled by a touchscreen on the centre console. Leather and suede are complemented with brushed metal and wood. Meanwhile, the racing-style steering wheel is clad in lightweight carbon fibre and contains integrated controls including a start button.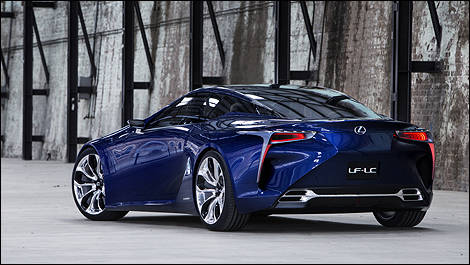 Photo: Lexus