Volkswagen came to the 2013 Los Angeles Auto Show with a trio of new and exciting vehicles.
2015 Volkswagen e-Golf

The fully electric 2015 Volkswagen e-Golf will launch in select U.S. states next fall. Producing 115 horsepower and reaching a top speed of 140 km/h, it provides a range of 110-145 kilometres depending on the driving mode: Normal, Eco, or Eco +. The e-Golf also charges in less than four hours through a 220V power source.
Standard LED headlights (a VW first), exclusive 16'' wheels, and a colour strip on the front grille set this zero-emission model apart from the regular Golf.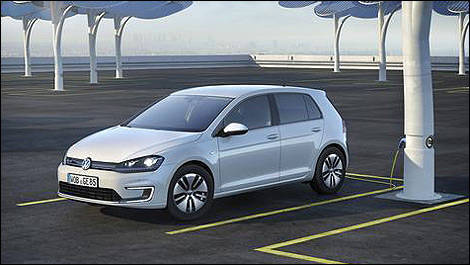 e-Golf. (Photo: Volkswagen)
CrossBlue Coupe

This concept, which originally made its global debut in Shanghai back in April, is a five-passenger plug-in hybrid SUV with a total output of 415 horsepower. It combines a gasoline V6 with a pair of electric motors.
The sporty-looking Volkswagen CrossBlue Coupe features 22'' wheels, unique headlights and taillights, larger door openings for easy access, and generous cargo room.
On the road, the CrossBlue Coupe can travel about 21 kilometres in full electric mode, and offers a total hybrid range of more than 900 kilometres. Top speed is rated at 237 km/h.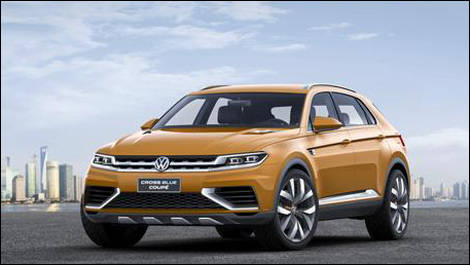 Crossblue Coupe. (Photo: Volkswagen)
Design Vision GT

Also on display at the 2013 Los Angeles Auto Show is the Volkswagen Design Vision GT concept, a Golf GTI spinoff that made a splash earlier this year at the Wörtherse festival in Germany. Using a 3.0L twin-turbo V6 engine that produces 503 horsepower, the car sprints from 0-100 km/h in just 3.9 seconds and maxes out at nearly 300 km/h.
The Volkswagen Design Vision GT is equipped with large carbon-ceramic brakes with red callipers, as well as 20'' wheels.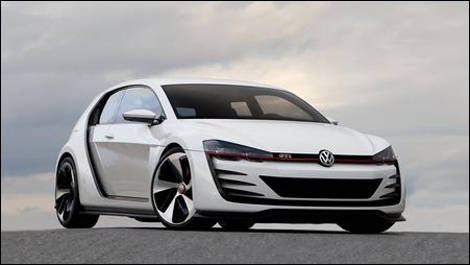 Design Vision GT. (Photo: Volkswagen)