Tokyo, Japan — It is undeniable; Mazda makes pretty cars and handsome utility vehicles. You only need to compare a few of their models to their nearest competitors and the design differences are striking. Like any smart, forward-thinking company, Mazda is already hard at work creating and developing the brand's future face and related technologies.
The early 2000s were very revealing at Mazda. In a very short period of time, the Mazda6, RX-8 and Mazda3 all broke cover on the world's stage, each of them representing a huge styling leap forward in their respective segments. Then, by the end of the decade Mazda launched KODO design and they've yet to slow down.
Normally, a company wouldn't look to its past for styling cues unless the intent was to resurrect an old product. The good folks at Mazda, despite their very forward-thinking design, have decided to allow themselves to be inspired by their past, and Japanese tradition. This sums up the next chapter of KODO.
Mazda's Head of Design, Ikuo Meada, deemed it important to allow the car's design to speak for itself in the future. Japanese tradition is much about simplicity and dignity. This leads to a sense of elegance and peace. Take a stroll through any traditional Japanese garden and I dare you not to be affected by how serene the environment is, and not to be filled with a sense of Zen.
Mazda Vision Coupe concept
KODO 2.0, or the "art of the car," is all about clean and elegant designs. Too often designers are tempted to embellish their concepts with giant creases, wings and numerous other forms of visual fluff to give their creation more presence. Take a good look at Mazda's brand new Vision Coupe concept introduced at Tokyo Motor Show 2017 and tell me that this car does not consume all of your attention.
The Vision Coupe concept is a medium-to-large 4-door car that could be the inspiration for the next Mazda6. More importantly, it is the first publicly shown embodiment of KODO 2.0. Without saying a word, this car whispers elegance and style. I wrote "whispers" because no amount of staring will expose accents, highlights or anything of the sort. So clean are the lines that one would be fooled into thinking there are curves everywhere.
The portion between the wheel wells is the most deceitful. With light and shadows dancing upon the body, it looks as though the doors are highly sculpted when in fact they are barely curved. This part of the car was inspired by the Sori, which is the nearly straight curve of the samurai blade. A true work of art.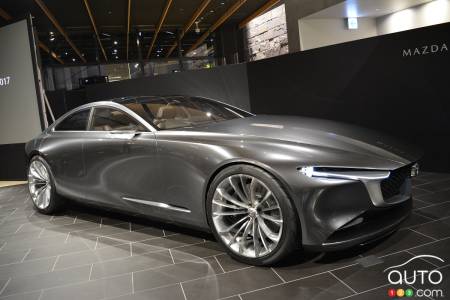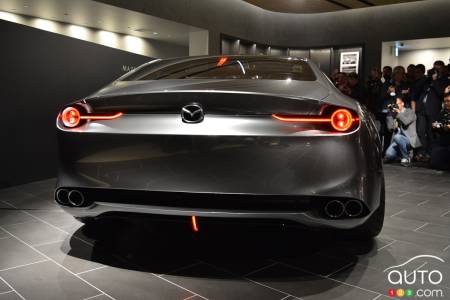 Mazda Kai concept
As sublime as the Vision Coupe may be, the all-new Mazda Kai concept, also revealed in Tokyo, is the one that got to me the most. Slated to become the next-generation Mazda3 Sport hatchback, the Kai collides with the senses. This is another example of KODO 2.0 where you'd think the car is covered in creases, air intakes, curves and the like when there really is little going on. It's almost an illusion.
A good long stare at the car will reveal very plain front and rear fascia despite moulded styling and recessed lighting. In fact, my personal favourite design elements are the taillights that look as though they've been pushed into place when the sheetmetal was still hot and soft.
The cabin's neat and unobstructed layout is equal parts refreshing and dynamic. The display screen is totally and perfectly integrated into the two-tier dashboard, freeing up the eye and the mind for complete forward concentration.
This car will crush the competition on looks alone unless some other carmaker decides to take their designs to the next level. But then, Mazda will also have SKYACTIV-X to counter.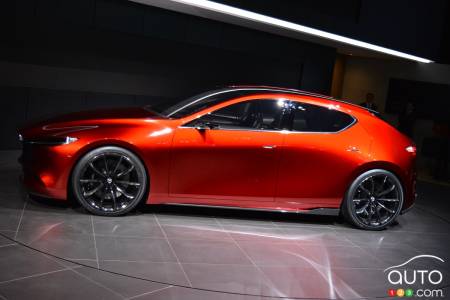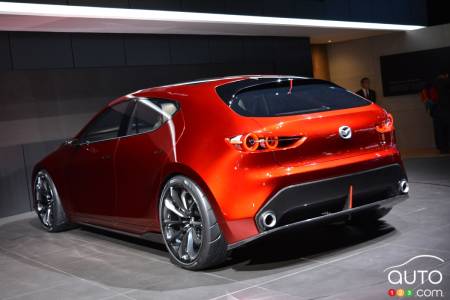 SKYACTIV-X
This advanced new technology is extremely complex, but has very simple goals: more performance, fewer emissions and reduced fuel consumption.
In a brief nutshell, SKYACTIV-X is as evolved as an internal combustion engine can be. It combines the best of what we already know, namely the high-rpm power of a gasoline engine and the low-end torque and responsiveness of a diesel engine.
Perhaps most interesting will be the large number of future applications for this engine. The SKYACTIV chassis and platform, into which the "X" will be dropped, will be capable of welcoming a hybrid powertrain, AWD and more. Thus, an AWD hybrid Mazda3 could be a thing of the future.
Further details on the Kai concept/next Mazda3 are scarce. Output numbers are not known, however engine size for North America will likely be 2.0L. As for the car's release date, the best guess is possibly 2019 (for the 2020 model year).
Mazda's latest production models have stayed very true to the concepts and prototypes that came before them, so this bodes very well for the next-generation Mazda3.