Mercedes-Benz' iconic all-terrain SUV, the "Geländewagen", otherwise known as the G-Class, has been around since 1979, and recently saw the 300,000th unit roll off the assembly line. Its appearance has changed relatively little over the years, though the German automaker did bring small but constant updates to the model.
This coming January at the 2018 North American International Auto Show in Detroit, however, a brand-new G-Class will be unveiled, revealing the most significant transformations to its styling, interior and technical features in nearly 40 years.
A focus on the interior
As these images reveal, the new interior is characterized by clean, geometric lines, which absorb some of the vehicle's exterior style elements. The round forms of the headlights, for example, are reflected in the side air vents, while the shape of the speakers mimics the design of the vehicle's turn signals.
The front passenger-side handhold and the chrome-topped commands for the differential locks have been meticulously optimized. Touch controls on the steering wheel respond to swiping motions, smartphone-style. Added to that are shortcut keys located in front of the controller as well as various commands for the available drive assist systems.
The entirely redesigned dashboard harbours a series of tubular-style analog instrument dials, though as with the E-Class and S-Class models, buyers have the option to replace those with a large digital display panel featuring two 12.3-inch screens beneath a shared glass cover. All of these features and systems can be configured according to Classic, Sport and Modern modes.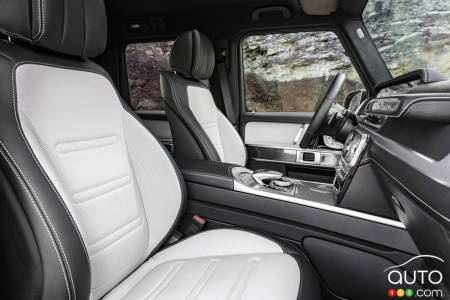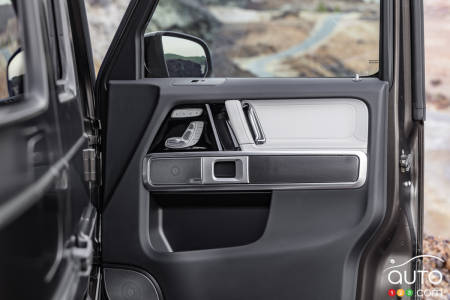 Storage space offered in the Mercedes-Benz G-Class has also been completely reviewed, and the cabin now includes a number of new compartments. Available to tech-hungry buyers is an optional wireless charging station.
Unsurprisingly, Mercedes has also chosen to include superior-quality new materials and upgraded comfort levels for passengers. All occupants benefit from increased space, particularly for legs in the back row of seats, as well as heated seats. The driver's seat even has a standard memory function and luxury headrest. Many options and trim elements, including a number of new ones, are available.
Our contributor Vincent Aubé tested a Mercedes-Benz G-Class last year in the mountains of British Columbia. It's well worth checking out, as is this video that tracks an expedition in a G-Class across northern Canada and Alaska. It should put you in the mood for the new G-Class to come!