As reported by Mercedes-Benz
Mercedes-Benz
is setting the new standard in armoured patrol vehicles showing the Mercedes-Benz G-Wagon Light Armoured Patrol Vehicle 6.X CONCEPT at the recent EUROSATORY 2010 event.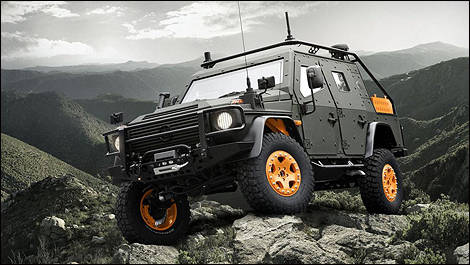 Photo: Mercedes-Benz
Improving on its cousin, the LAPV 5.4, the new Mercedes-Benz LAPV 6.X Concept now boasts greater agility, higher protection and a greater payload capacity. Weight has been minimised to increase agility while still not compromising on protection and payload capacity.
Running a high torque common rail diesel engine, the 6.X is capable of 150km/h speeds while being able to transport 1.3 tonnes of cargo with its impressive payload.
The monocoque full steel body provides ballistic protection and sits upon a compact 2850mm wheelbase. This gives an astounding angle of approach / departure of 50?/ 45? for increased mobility and off road performance.
The vehicle's modular armour plate system allows damaged plates to be removed quickly and be replaced with new or extra plates, and includes a mine deflector plate on the vehicles floor.
The variable lift front and rear coil-over air shock absorbers which are adjustable while driving, help lift the LAPV 6.X to an unprecedented 450mm of ground clearance. Coupled with the performance hydraulic braking system and four ventilated disc brakes no up or down hill slope will pose a problem.
Based on the
G-Class's
proven axles, the LAPV 6.X ensures thrilling off-road capabilities and low drive train wear. An individual tyre inflation system is also able to detect ground conditions and adjust accordingly for best traction.
Mercedes-Benz in collaboration with EADS, a leading supplier of military technology brings a host of innovative high performance systems to the LAPV 6.X.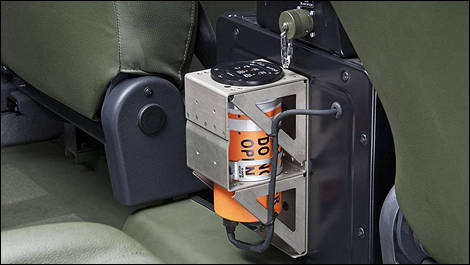 Photo: Mercedes-Benz