The promise was a bold one: Mercedes-Benz was going to revolutionize the user experience in its cars. This week the company delivered on that pledge at the 2018 Consumer Electronics Show (CES) in Las Vegas, with its presentation of a highly sophisticated infotainment system called MBUX (Mercedes-Benz User Experience). The company will be integrating the new technology in its production models starting this year.
The artificial intelligence-equipped MBUX system can be personalized and adapted according to drivers' preferences, and features "over-the-air" updates. The interface consists of a large digital dashboard equipped with a high-resolution touchscreen, an augmented-reality navigation system, head up display on the windshield and a natural voice recognition system (activated via a button or simply by saying "Hey Mercedes", followed by a command). Heck, you can even say "I'm cold", and the system will automatically adjust the cabin temperature!
As well, as part of MBUX, the centre console houses a touchpad and the steering wheel, touch buttons. Behind the latter, the digital instrument cluster can be configured nearly completely to show the data desired.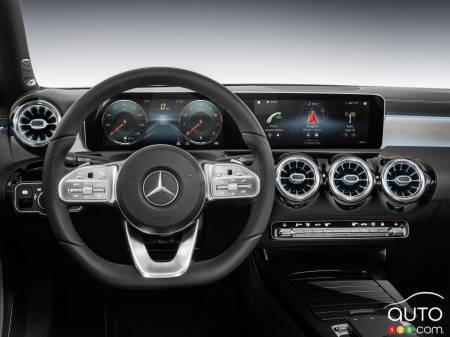 The overarching concept is to transform the car into a personal mobile assistant. The system can learn a wide range of info about users' needs and driving habits, which then serves to predict choices and actions, for example in terms of itineraries or the preferred radio station.
The horizontal layout of the dashboard gives the whole a floating aspect, and the indirect lighting placed just below helps create a grandiose ambiance, according to Mercedes-Benz. The display on the screens is visually very clear and modern-looking, while the menus are tiered to make the most-used functions immediately accessible. Users will be spared having to scroll down endless menus; instead they can simply play around in the animated 3D renderings of the car to adjust settings.
If you have a few moments and want to learn more about the remarkable, futuristic MBUX system, here is the full press presentation: