Yesterday at the North American International Auto Show in Detroit, Michelin launched the Premier A/S tire with revolutionary new EverGrip technology, which provides drivers with superior levels of safety even as their tires wear down.
"The MICHELIN Premier A/S with EverGrip is a compelling new safety technology that helps keep the driver in control and the car firmly planted on the road,'' said Scott Clark, chief operating officer of Michelin North America's passenger and light truck tire division. "EverGrip continues Michelin's industry-leading commitment to research and development of tire technology."
EverGrip uses three main elements to provide extra traction over time:
Extreme amounts of silica and sunflower oil for high traction in wet conditions, even at lower temperatures;
Expanding rain grooves positioned around the circumference of the tire with a special geometric shape that gets wider as the tread wears. This helps maintain the amount of water that the tire can channel away even as these rain grooves lose depth;
Another set of grooves along the tire's shoulder that emerge as the tire becomes worn. More than 150 hidden grooves emerge to provide additional help in channelling water away and maintaining wet traction as miles are logged.
Available this spring, the Michelin Premier A/S will initially be available in 30 sizes (ranging from 185/65R15 to 245/45R18) and backed by a limited 100,000-kilometre warranty.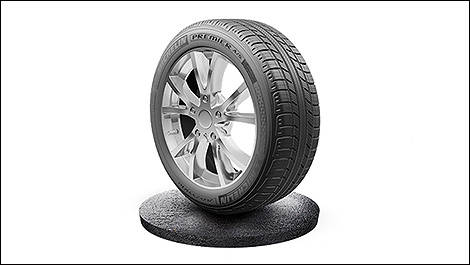 Photo: Michelin