GREENVILLE, South Carolina –
Tires are a considerable investment vital to the safe operation of your vehicle. But the very characteristics that make them effective -- flexibility and tread – are the ones that wear out the fastest. And a worn tire is one that's seriously compromised when it comes to performance and grip – especially on wet pavement.
"Tires play a significant role in safety" said Ron Margadonna, Michelin's senior technical marketing manager. "They're only new once, and as they age, safety degrades, especially in the wet where most accidents happen."
Michelin's new Premiere A/S (all season) introduced at the Detroit Auto Show, features a trio of new, patented technologies that not only extend the life of the tire, but also actually help it transform as it wears to reveal new layers of grip. Grouped under the name "EverGrip", the technology targets three key aspects of the tire's construction.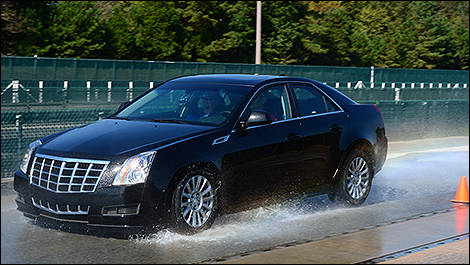 Photo: Alexandra Straub
Meticulous mixing of ingredients to ensure consistency throughout wear:
Most modern tires use the radial ply construction invented by Michelin in 1946.
Where they differ is in their outer layers, the tread compounds that give the tires their performance characteristics. Common ingredients are rubber, carbon for color and durability, and silica for grip with some kind of softening agent so they stay malleable.
The Premier A/S uses high amounts of silica, whose widespread use was introduced by Michelin in 1992 as a strengthening agent that improves rolling resistance also helping to lower fuel consumption. The addition of sunflower oil adds pliability to grip at lower temperatures. The high-traction compound is meticulously mixed to ensure a consistency throughout the tire's wear.
Re-engineered tread grooves that retain their ability to channel water as they wear
A tire's tread pattern is very thoughtfully engineered. Blocks of tread provide stability, grooves channel away water, and "sipes" – ingenious slits cut into the blocks expand to increase road contact and help to evacuate moisture. The negative space or 30% "void area" is an important factor in channeling away water.
As tires wear, the grooves get narrower and the "void area" decreases to around 15%. Narrow grooves are less effective at channeling water, resulting in a tire that hydroplanes on wet pavement.
By taking the traditional groove design and literally turning it upside down, the Premier maintains its 30% void efficiency so that as the tire wears the channel widens and retains its ability to remove water.
Hidden grooves that emerge as the tire wears
One of the most interesting aspects of the EverGrip Technology is the "emerging grooves" – more than 150 rain grooves located along the tire's shoulder. These extra grooves, which lie hidden beneath the outer layer of compound, emerge as the tire wears to provide an unexpected boost in wet traction later in the tire's life.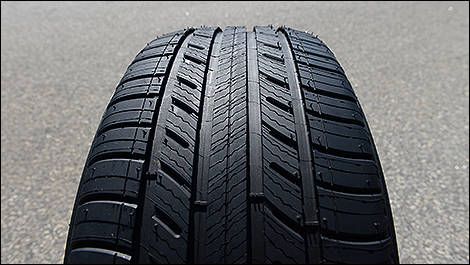 Photo: Alexandra Straub
Safe when new, safe when worn
We headed to Michelin's Lauren Proving Grounds (LPG) in Greenville, South Carolina to experience the Premier A/S tires first hand. Michelin really is emphasizing the safety aspect of the new tire, with the tagline "Safe when new, safe when worn".
They're obviously quite confident in the Premier's performance ability, since all the Michelins used in the testing have been buffed 50%. These were compared to brand-new examples of their top two competitors: Bridgestone Turanza Serenity Plus and Goodyear Assurance tires.
"We haven't selected competitors who are slouches," said Margadonna. "These are all Tier 1 tires".
Wet braking was done with identical Cadillac CTS sedans, from a speed of 80 km ending in a brake box with about 2 mm of water. Over two runs on each tire, I averaged 96.3 feet with the Michelins compared to 104.5 feet on the Goodyears and 109.3 feet with the Bridgestones.
The worn Michelins consistently out-performed their competitors by at least ten feet – a distance comparable to a car length. Those ten feet could represent the difference between stopping safely and tragedy. It would have been interesting to see how a new Premier A/S would compare, but strangely, they weren't provided for this exercise.
LPG's wet handling course is 1.5 km loop that's continuously sprayed to maintain a water depth of 1.5 mm on top of the asphalt. Again, on identical Cadillac CTS sedans, the buffed Premier A/S tires were again up against the Bridgestone Turanzas and Goodyear Assurance. The worn Michelins were at least equal in lateral grip and handling and better at wet braking, with quicker steering response than the other brands.
We finished up with 3 laps on brand new Michelin Premier A/S – unquestionably the best wet performer of the bunch, displaying terrific braking, less understeer while cornering, great steering response and the surest grip overall.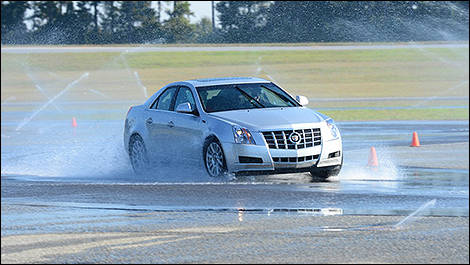 Photo: Alexandra Straub
Excellent performance throughout their wear life
The revolutionary new advances in tire design appear to back up Michelin's claims of excellent performance throughout their wear life.
On sale this spring, the Michelin Premier A/S will be available in 32 sizes (ranging from 185/65R15 to 245/45R18) for passenger cars, with utility and minivan sizing to follow.
Priced slightly higher than their tier 1 competitors, the Premier A/S will be backed by a limited 100,000 km warranty.