Jason Hathaway has earned his first victory since 2008 by winning the NASCAR Canadian Tire Series' Wilson Equipment 300 Supporting Red Cross Disaster Relief on Saturday at Riverside International Speedway.
Hathaway took the lead on Lap 295 of the 300-lap event from Scott Steckly, who had earned pole position earlier in the day, and was able to fence-off attacks from DJ Kennington and Steckly.
Kennington missed his second win of the season by .342 seconds, settling instead for a second place finish.
Steckly, who led a race-high 202 laps, finished third for his fourth consecutive top-five finish at Riverside.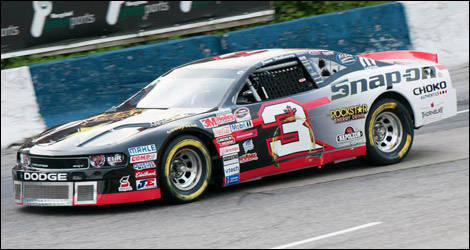 Photo: Jason Hathaway
Mark Dilley and Martin Roy rounded out the top five while 17-year-old rookie Alex Guenette recorded his fourth top 10 of the season with a sixth-place finish while Donald Chisholm, Noel Dowler, Hugo Vannini and Trevor Seibert completed the top-10 finishers.
In the championship point standings with just three races to go in the season Steckly maintains a four-point advantage on Kennington while Hathaway closed to within just 10 points of the leader.
The NASCAR Canadian Tire Series continues the season with the Pinty's presents the Clarington 200 on the road course at Canadian Tire Motorsport Park near Bowmanville, Ont., on Sept 1.