From press release
Donald Chisholm scored an emotional and convincing victory in front of the hometown crowd as he took his first career NASCAR Canadian Tire Series presented by Mobil 1 checkered flag in Saturday's Wilson Equipment 300 at Riverside International Speedway.
The victory for Chisholm, from Antigonish, came in his 16th career start. A part-time competitor since 2007, he became the 15th different winner in Canadian Tire Series history.
Chisholm, whose family owns Riverside, captured the victory less than two months after his father and track founder, John, passed away.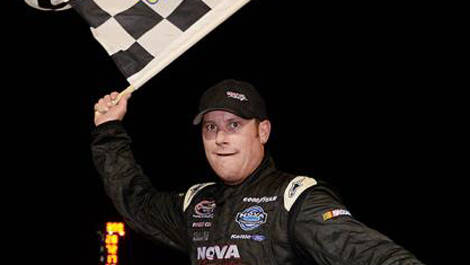 Donald Chisholm (Photo: Matthew Murnaghan/Getty Images for NASCAR)
Chisholm was followed across the finish line by only three other lead lap cars: Alex Labbe, D.J. Kennington and Andrew Ranger. Both Kennington and Ranger passed Chisholm in the closing laps to rejoin the lead lap.
Mark Dilley, points leader L.P. Dumoulin, J.R. Fitzpatrick, Noel Dowler and rookies John Flemming and Matthew Scannell brought home the top 10.
Jason Hathaway appeared poised to defend his Riverside win from a year ago. He was cruising in the lead when he collided with the spun Flemming car while navigating lap traffic on Lap 240.
With three races remaining, Dumoulin holds a 26-point lead on Ranger and Fitzpatrick. Hathaway, 47 back, and Kennington round out the top five.