The NASCAR Canadian Tire Series' championship battle will come to an end this weekend with two rivals, D.J. Kennington and Scott Steckly battling it out at Kawartha Speedway in the Pinty's 250.
Kennington comes to the Ontario speedway with a lead of only five points over Steckly which opens up several possibilities for each to claim the prize.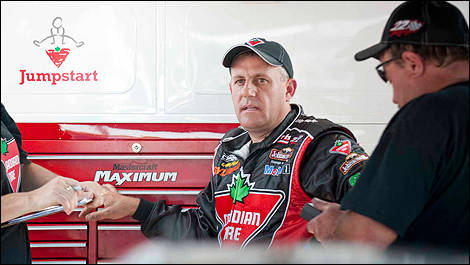 Scott Steckly. (Photo: NASCAR via Getty Images)
Not to be ignored, though, is Jason Hathaway, winner of the last three series' events. Sitting in third with 22 points behind Kennington, Hathaway will need some cooperation from the drivers ahead of him to notch his first series crown.
Both Kennington (2010 and 2012) and Steckly (2008 and 2011) are already double-crown winners and they are vying to become the first three-time title winner in the series that debuted in 2007.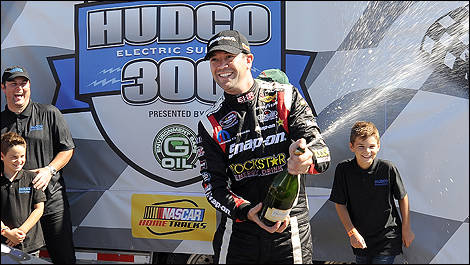 Jason Hathaway. (Photo: NASCAR via Getty Images)
Hathaway, who earned his first series victory at Kawartha in 2008, has to notch a top-four finish on Saturday to entertain any title hopes, but anything less than a victory makes the task taller. Even with a win, he needs Kennington to finish 19th or worse and Steckly would need to come home in 15th-place or worse.
In any case, it's the closest battle for the crown in the seven-year history of the NASCAR Canadian Tire Series regardless of the points' structure that changed a year ago.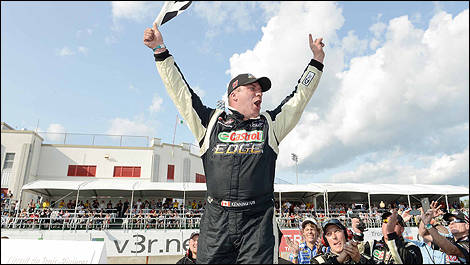 DJ Kennington. (Photo: NASCAR via Getty Images)
The Pinty's 250 will be presented Saturday Sept. 21st at 5 p.m. ET with qualifications at 3 p.m.ET.
Point standings (top 10):

1 D.J. Kennington 430 points
2 Scott Steckly 425
3 Jason Hathaway 408
4 L.P. Dumoulin 395
5 J.R. Fitzpatrick 391
6 Martin Roy 390
7 Jason White 343
8 Alex Guenette* 341
9 Noel Dowler 340
10 Ron Beauchamp, Jr. 338