From NASCAR.com
In a race that was delayed more than six hours by rain, Dale Earnhardt Jr. won the 56th running of the Daytona 500 at Daytona International Speedway, opening round of the 2014 NASCAR Sprint Cup.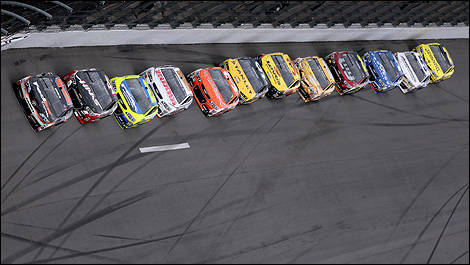 Denny Hamlin leads the pack. (Photo: Todd Warshaw/NASCAR via Getty Images)
Only 38 laps had been completed when the race was halted for rain. Officials red-flagged the race at 2:13 p.m. ET.
Although the rain intensified – severe weather warnings were issued for the surrounding region and lightning streaked against the gray sky – after nearly six and one half hours, the cars were back on the race track.
The 39-year-old Earnhardt led six times for 54 laps in the 200-lap event, holding off Denny Hamlin for the victory in a two-lap dash set up after a multicar crash in Turn 3.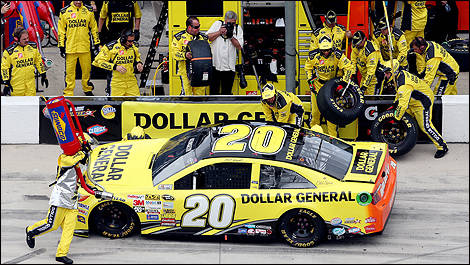 Matt Kenseth ended up pitting the wrong way! (Photo: Todd Warshaw/NASCAR via Getty Images)
A winner of the NASCAR Sprint Cup Series' premier event in 2004, Earnhardt Jr. had finished second in three of his last four Daytona 500 attempts. Sunday's victory was his first win in his last 56 starts.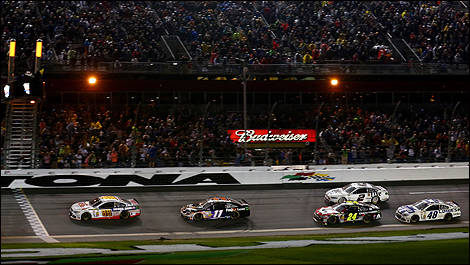 Dale Earnhardt Jr. crosses the line. (Photo: Tom Pennington/Getty Images)
Another crash erupted on the final lap, forcing the race to end under caution, but the mayhem was in the leader's rear-view mirror.
Denny Hamlin, eyeing a sweep of events at Daytona -- he won last week's Sprint Unlimited and one of Thursday's two Budweiser Duel races -- rallied from sixth to second in the closing laps.
Brad Keselowski, Jeff Gordon and Jimmie Johnson completed the top five in the season's season-opening event.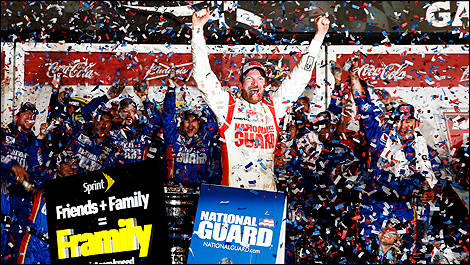 Dale Earnhardt Jr., 2014 Daytona 500 winner. (Photo: Tom Pennington/Getty Images)
Results – 2014 Daytona 500 NASCAR Sprint Cup

Pos.  Nu.  Driver  Car manufacturer  Laps completed
1 88 Dale Earnhardt Jr Chevrolet 200 laps
2 11 Denny Hamlin Toyota 200
3 2 Brad Keselowski Ford 200
4 24 Jeff Gordon Chevrolet 200
5 48 Jimmie Johnson Chevrolet 200
6 20 Matt Kenseth Toyota 200
7 17 Ricky Stenhouse Jr Ford 200
8 16 Greg Biffle Ford 200
9 3 Austin Dillon Chevrolet 200
10 13 Casey Mears Chevrolet 200
11 22 Joey Logano Ford 200
12 40 Landon Cassill Chevrolet 200
13 4 Kevin Harvick Chevrolet 200
14 1 Jamie McMurray Chevrolet 200
15 52 Bobby Labonte Chevrolet 200
16 36 Reed Sorenson Chevrolet 200
17 99 Carl Edwards Ford 200
18 9 Marcos Ambrose Ford 200
19 18 Kyle Busch Toyota 200
20 32 Terry Labonte Ford 200
21 41 Kurt Busch Chevrolet 199
22 31 Ryan Newman Chevrolet
23 23 Alex Bowman Toyota
24 98 Josh Wise Ford 196
25 33 Brian Scott Chevrolet 196
26 47 AJ Allmendinger Chevrolet 194
27 51 Justin Allgaier Chevrolet 193
28 26 Cole Whitt Toyota 193
29 30 Parker Kligerman Toyota 193
30 55 Brian Vickers Toyota 192
31 5 Kasey Kahne Chevrolet 192
32 27 Paul Menard  Chevrolet 184
33 21 Trevor Bayne  Ford 183
34 34 David Ragan Ford 176
35 14 Tony Stewart Chevrolet 174
36 38 David Gilliland Ford 171
37 7 Michael Annett Chevrolet 161
38 42 Kyle Larson Chevrolet 160
39 43 Aric Almirola Ford 146
40 10 Danica Patrick Chevrolet 145
41 66 Michael Waltrip Toyota 144
42 15 Clint Bowyer Toyota 127
43 78 Martin Truex Jr Chevrolet 30