Veteran NASCAR racer Jeff Gordon clinched a spot in the Sprint Cup Chase by winning the Brickyard 400 at Indianapolis Motor Speedway.
Gordon timed the final restart perfectly, passing his Hendrick Motorsports teammate Kasey Kahne on lap 144 of 160.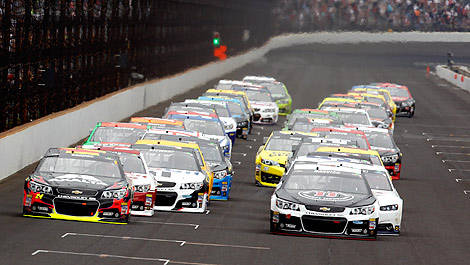 Photo: Getty Images for NASCAR
Twenty years after his victory in the inaugural Brickyard 400, Gordon finished 2.325 seconds ahead of Kyle Busch who with teammates Denny Hamlin and Matt Kenseth finished 2-3-4 in the 20th Sprint Cup race of the season.
However, Hamlin may get penalised tomorrow as his No. 11 Toyota failed to pass the post-race inspection.
The win was the 90th of Gordon's career -- third-most all-time -- his second of the season and his record fifth at Indianapolis, breaking a tie with teammate Jimmie Johnson for most Cup wins at the Brickyard.
The victory also clinched Gordon a spot in the Chase for the NASCAR Sprint Cup, assuming he attempts to qualify for the remaining six races of the regular season.
Penske Racing's Joey Logano ran fifth, and Kahne slipped to sixth in the final 17-lap run after leading 70 laps and, for most of the afternoon, looking to be the likely winner.
Sprint Cup standings:

1 Jeff Gordon 717 points
2 Dale Earnhardt Jr. 693
3 Brad Keselowski 666
4 Matt Kenseth 661
5 Jimmie Johnson 628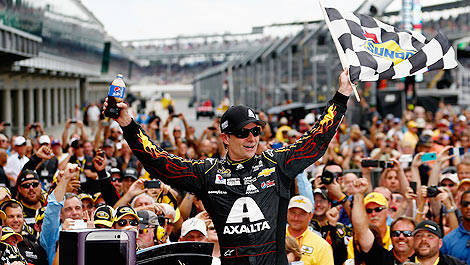 Photo: Getty Images for NASCAR