From nascar.com
Four-time NASCAR Sprint Cup champion Jeff Gordon held on to win Michigan after passing Penske's Joey Logano on final restart.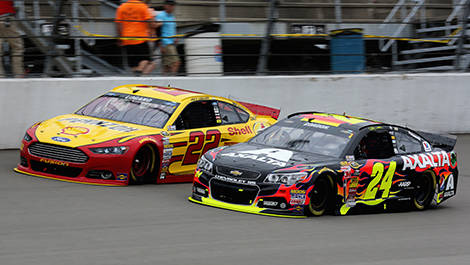 Joey Logano, No. 22 Shell-Pennzoil Ford, and Jeff Gordon, No. 24 Axalta Chevrolet. (Photo: Getty Images/NASCAR)
Kurt Busch hit the Turn 2 wall shortly after a lap 178 restart and the ensuing yellow flag bunched the field for a final sprint to the finish.
Gordon, who faced questions about his struggles on restarts earlier this season, passed Joey Logano at the start of lap 183 and kept his Chevrolet in front when Logano got next to him on the following lap.
Logano fell back after falling out of a draft and Gordon never was challenged again as he rolled to his third series victory of the season.
Jeff Gordon's win at Indianapolis last month followed a similar script.
Kevin Harvick was second for the fourth straight race here, followed by Paul Menard, Logano and Dale Earnhardt Jr. Earnhardt, who started the day with a four-point series lead on Gordon, dropped to second after the checkered flag.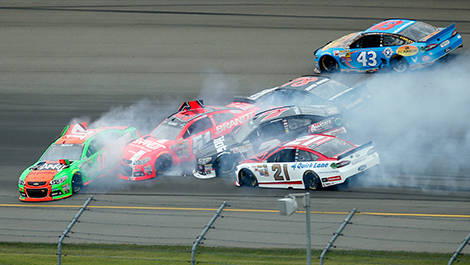 Danica Patrick, driver of the No. 10 GoDaddy Chevrolet triggered a pile-up. (Photo: Getty Images/NASCAR)
A lap 26 crash that began with Danica Patrick's spin in Turn 1 collected eight other cars, including Matt Kenseth, who started the day third in the Sprint Cup standings but still needing a victory to guarantee a spot in the new Chase for the Sprint Cup Series format.

Sprint Cup point standings:
1 . Jeff Gordon, 816 points
2 . Dale Earnhardt Jr., 813
3 . Brad Keselowski, 733
4 . Joey Logano, 714
5 . Matt Kenseth, 709