From nascar.com
Jimmie Johnson, driver of the No. 48 Chevrolet and defending Sprint Cup Series champion has won three of last four Sprint Cup races.
Johnson, who had never won in Michigan, took the lead for good on lap 191 after a cycle of pit stops and cruised to the checkered flag at Sunday's Quicken Loans 400 to end a 24-race drought here.
"We've figured out every way to lose this race and today we were able to get it done," he said after getting out of his Chevy.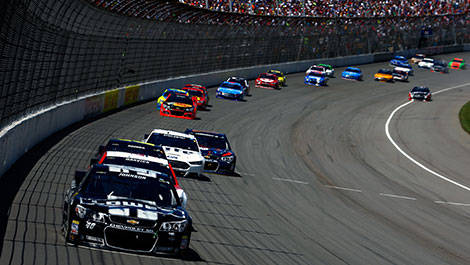 Jimmie Johnson leads the pack in Michigan. (Photo: Getty Images/NASCAR)
Johnson had encountered heartbreak several times when leading late here and admitted he was nervous as he dashed through the final few laps.
"About 200 yards before the finish line I knew if the car exploded, I'd still make it across the line," he said with a chuckle, "so that's when I finally relaxed."
Johnson pitted on lap 165 and took on four tires and enough fuel to finish the race, which was green the rest of the way. Anyone close to him pitted later, leaving Johnson comfortably ahead as Hendrick Motorsports captured its fifth straight Sprint Cup Series race.
Pole-sitter Kevin Harvick, who led a race-best 63 laps, was second, followed by Brad Keselowski, Paul Menard and Kasey Kahne.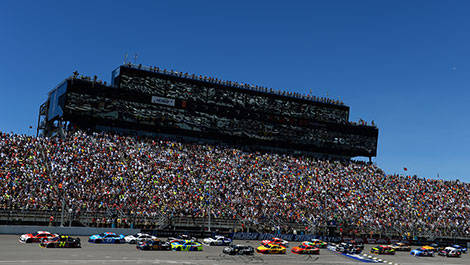 Kevin Harvick gets the green to start the race. (Photo: Getty Images/NASCAR)
Johnson's win capped a stellar day for HMS, which saw all four Chevys in the top seven thanks to Kahne, Jeff Gordon and Dale Earnhardt Jr., who were sixth and seventh.
Johnson became the series' first three-time winner and picked up his 69th career Sprint Cup victory. He's finished first in three of the series' last four races, moving from fourth to second in the series points standings, 15 points behind Gordon.