From press release
For the second consecutive week, Jeff Gordon will start the race as the pole sitter.
In the No. 24 Axalta Chevrolet SS, Gordon qualified first at Michigan International Speedway Friday.
It marked his 76th career pole.
The cars were qualifying at such high speeds that in the second round, Gordon set a new track record at 205.885 mph and a time of 34.971 seconds, and by the third round Gordon broke his own record with a speed of 206.558 miles per hour and time of 34.857 seconds.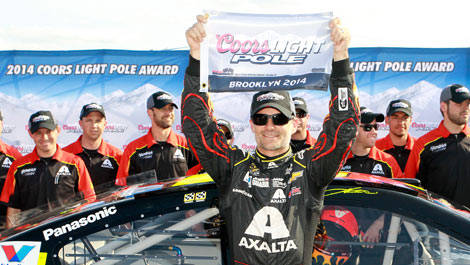 Jeff Gordon, Michigan International Speedway (Photo: Brian Lawdermilk/NASCAR via Getty Images)
"I knew that we were really strong here the last time we were here and what our team is doing right now, it's just phenomenal how they continue to improve race cars and just the whole effort," Gordon said.
"I'm just so proud of them. You don't go around this place like that, that fast without a really good race car. Thanks to Axalta, Drive To End Hunger, Pepsi, Chevrolet, everybody that made this possible. I'm so excited about the way our race team is performing right now."