From NASCAR
The Closer finally closed the deal, and the door swung almost shut on Dale Earnhardt Jr., six-time NASCAR Sprint Cup Series champion Jimmie Johnson and 2012 champion Brad Keselowski.
With the dominant car in Saturday night's Bank of America 500 at Charlotte Motor Speedway, Kevin Harvick led 162 laps and survived a wild two-lap dash to the finish after the final caution en route to his third NASCAR Sprint Cup Series win of the season and a free pass into the Eliminator Round of the Chase.
In a race that ended with battered cars, bruised egos, boiling tempers and physical confrontations in the garage, Harvick pulled away after a restart on Lap 333 of 334 and beat Jeff Gordon to the finish line by .572 seconds. Jamie McMurray ran third, followed by Joey Logano and polesitter Kyle Busch.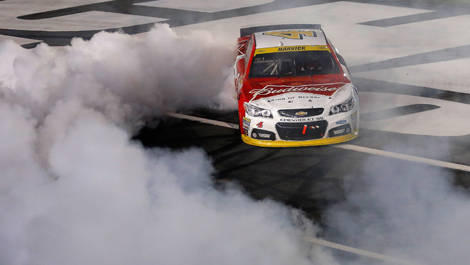 Kevin Harvick celebrates his win in Charlotte (Photo: Chris Trotman/NASCAR via Getty Images)
"I won't be anorexic and throwing up all week," Harvick quipped, knowing he won't need to avoid the inevitable major wrecks in the Oct. 19 race at Talladega Superspeedway to advance to the next round of the Chase. "This was the night that we needed to win. I don't want to go to Talladega next week."
Nicknamed "The Closer," Harvick had failed to win the last five races in which he had led the most laps, but his victory on Saturday night—his third at Charlotte and the 26th of his career—was an emphatic rebuke to the ill fortune that had kept him out of Victory Lane since April.