From NASCAR.com
Persistent rain and cold weather that inhibited track drying at Chicagoland Speedway forced cancellation of Friday's scheduled time trials for Sunday's MyAFibStory.com 400, the first race in the 2014 Chase for the NASCAR Sprint Cup.
With the field ordered according to top speeds in Friday's opening Sprint Cup practice session, Chase drivers Kyle Busch, Ryan Newman and Carl Edwards will start from the top three positions, respectively.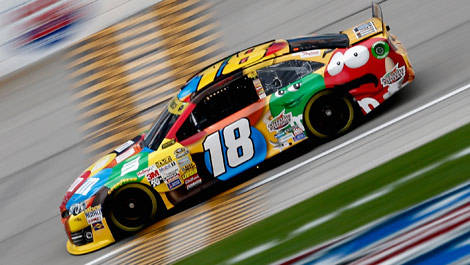 Kyle Busch (Photo: Jeff Zelevansky/NASCAR via Getty Images)
Busch recorded a top average speed of 191.442 mph on his 21st and final practice lap in the No. 18 Joe Gibbs Racing Toyota, more than two miles-per-hour faster than Joey Logano's 2013 track qualifying record of 189.414 mph.
"I think today was a little bit better practice session for myself and the 20 (Kenseth)," Busch said. "I talked to Matt, and he felt a little more positive about things. Matt jumped up there to the top of the board early, and we were able to do so late…
"It's a good representation of where we feel like we want to be and where we should be, but, again, it's early -- first practice, and not everybody at the end of that practice was in qualifying trim, making qualifying runs… There, later in practice, speeds certainly got quicker."