Quebec's Maryeve Dufault will get her first chance to race a NASCAR Nationwide car on an oval, at this weekend's race at the Chicagoland Speedway.
Maryeve contested her first NASCAR Nationwide race at Montreal's NAPA 200 at circuit Gilles Villeneuve in 2011.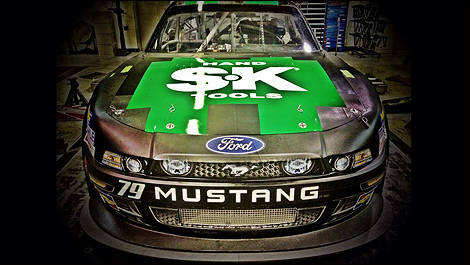 The No. 79 Ford Mustang of Maryeve Dufault (Photo: Maryeve Dufault Facebook)
This time, she will be driving the No. 79 Ford Mustang for Archie St. Hilaire's Go Green Racing, sponsored by SK Hand Tools.
After her success in the ARCA series two years ago, which included a top 10 at Chicagoland, Go Green is anticipating a strong finish from Dufault.
Go Green Racing team owner, Archie St. Hilaire is eager to give the rising Canadian female motorsports driver the opportunity to display her talents.
"Maryeve has proven she has the potential to be a talented driver in a very competitive NASCAR Nationwide Series. Chicagoland will provide both parties with the ability to explore the chemistry for a potential long term partnership in 2013 and beyond", said St. Hilaire in a team press release.
Auto23.com's video team covered Maryeve's debut in the Nationwide series in Montreal two years ago.