From nascar.comStory updated, see below
Tony Stewart will not drive this weekend in the Sprint Cup Series at Michigan International Speedway.
Instead, veteran Jeff Burton will drive the No. 14 Chevrolet for Stewart-Haas Racing at the 2-mile track.
According to a team release, the driver change only pertains to the Michigan race. Stewart's plans for the upcoming Sprint Cup Series schedule have yet to be determined.
Stewart did not race last Sunday at Watkins Glen as Nationwide Series regular Regan Smith drove the No. 14 Chevrolet to a 37th-place finish. Stewart was on the initial entry list for Michigan that was released on Monday.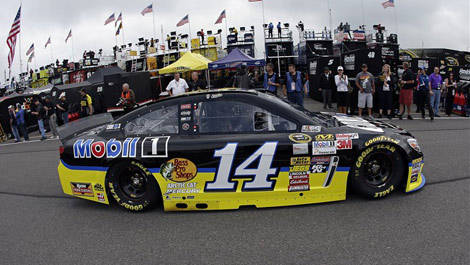 Photo: TonyStewart.com
Stewart was involved in a sprint car racing incident on Saturday night that resulted in driver Kevin Ward Jr. suffering fatal injuries at Canandaigua Motorsports Park, a half-mile dirt track on the Ontario County Fairgrounds. The investigation regarding the incident is ongoing.
Earlier this week, Stewart cancelled plans to race at Plymouth Speedway (in Indiana) this weekend. In fact, Stewart's racing plans outside NASCAR have been cancelled and will not resume until further notice.
UPDATE:
The decision of when Tony Stewart will return to the track is his and his alone, Stewart-Haas Racing executives said Friday at Michigan International Speedway.
"This decision was Tony's," SHR Executive Vice President Brett Frood said. "It was an emotional week for him. He's grieving. He's made the decision to not get in the race car. We'll take it week to week, and it's up to Tony when he wants to get back in the car."
Frood also said Stewart has been surrounded by his closest friends and family in a location "of a private nature" over the past week.