From nascar.com
A reduction in horsepower, a shorter rear spoiler and an optional driver adjustable track bar are among the nearly five dozen changes that encompass the 2015 rules package for NASCAR Sprint Cup Series teams.
After nearly a year of testing and collaboration to arrive at the package, NASCAR officials informed teams of the 2015 changes this week.
Testing

In addition to the changes in "hard parts," NASCAR has banned all private testing by teams for next season. Organizations will be allowed to participate in NASCAR/Goodyear tests only.
There also will not be a preseason test at Daytona International Speedway leading into the season-opening Daytona 500. Teams were expected to be at the 2.5-mile track in January for the annual Preseason Thunder program.
Rain

There could also be qualifying and racing in the rain at Sprint Cup Series events contested on road courses if weather is an issue; and the new qualifying format unveiled this year could see some minor tweaks going forward.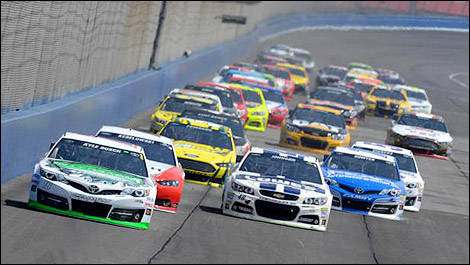 Photo: NASCAR
Engines

The horsepower reduction, from 850 to 725, will be obtained in part through the use of tapered spacers, which are currently used in the NASCAR Nationwide Series and NASCAR Camping World Truck Series.
Flat valve lifters will be replaced with roller valve lifters; lower differential gear ratios (targeting 9,000 RPM) will be in use and the rear spoiler height will be reduced from 8 inches to 6 inches.
An adjustable driver track bar will be optional (the device was tested this summer at Michigan International Speedway); while the size of the radiator pan has been decreased from 43 inches to 38 inches.
Previously announced for 2015 were the move to automated pit road officiating, a new parts approval process and the implementation of an electronic rule book.