Three-time NASCAR Sprint Cup champion Tony Stewart gave his first interview to Associated Press since the August 9 accident that killed Kevin Ward Jr.
That night, the sprint car Stewart was driving struck and killed Kevin Ward Jr. at Canandaigua Motorsports Park, New York state.
"I know 100 percent in my heart and in my mind that I did not do anything wrong," Stewart told
AP
. "This was 100 percent an accident."
According to the report, legal counsel advised Stewart not to describe what he remembers about the accident. Instead, he did discuss his life since that night, which included missing races at Watkins Glen, Michigan and Bristol.
The 43-year-old reportedly was in shock when he returned to his motorhome at Watkins Glen at 2 a.m., and he has since sought and received professional help to deal with the accident.
"You sit there and you wrack your brain, you try to analyze 'Why did this happen?' " Tony Stewart said. "I made myself miserable just trying to make sense of it ... I just couldn't function. I've never been in a position where I just couldn't function.
"You race hurt, you race sick, and that's the way racers have always been. You say you can go do what you need to do, and then it becomes very clear that you can't."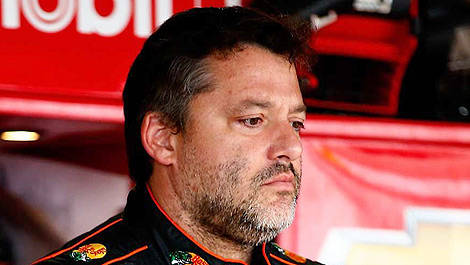 Tony Stewart. (Photo: NASCAR)
While he returned to racing last month at Atlanta after the three-race absence, Stewart rarely leaves his North Carolina home.
"You are part of something so tragic and so unthinkable, it's hard to face anybody," Stewart said.
"It was hard to wrap my arms around this, and it still is. I haven't been a part of society for more than six weeks. You are scared to be around anybody, you are embarrassed to be around anybody because of what happened."
Getting back to his racing routine, including his role as co-owner of Stewart-Haas Racing, has helped Stewart return to his life in the sport, but it's a life that will never be the same.
"There hasn't been a day that's gone by that I haven't thought about it. And it will be like that all your life," Stewart said.
"You are never going to forget about it. You are never going to not see it happen all over again. It's going to be a part of me forever."