If Chuck Norris were looking for his next SUV, he'd probably go for the 2012 Jeep SRT8 unveiled last night at the New York Auto Show. The most recent addition to Jeep's lineup is not only 100% all-American and 250% macho, it's also the most powerful – and nimble – Jeep ever built.
Like the new 300 SRT8, the newly redesigned Grand Cherokee inherits the 465-hp, 6.4-litre V8 HEMI. 90% of the 465 ft-lbs of torque is available between 2,000 and 6,000 rpm, enabling breathtaking acceleration. Jeep says the 0-100 km/h takes 4.8 seconds and the quarter mile around 13.5 seconds, while braking from 100 to 0 km/h requires only 35 metres.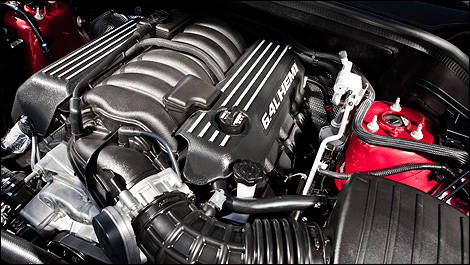 Photo: Chrysler
The five-speed autobox includes steering wheel paddles.
The adaptive suspension is 146% stiffer than the old model for superior handling, and the five-mode suspension will be backed by the Selec-Track system, working in conjunction with stability control, a limited-slip differential and even a cylinder deactivation feature.
Like on any self-respecting Jeep, all-wheel drive is standard, complementing the 20-inch wheels shod in Pirelli P Zero P295/45ZR20 tires and four vented brake discs squeezed by red Brembo callipers.
Though still aggressive, the body doesn't look quite as mean as its predecessor's. The 2012 Grand Cherokee has also been lowered by about an inch and features four exhaust tips.
Inside, occupants enjoy leather and suede seating with contrasting stitches, carbon fibre trim and a dual-panel sunroof.
The Jeep also includes a 19-speaker, 825-watt Harman Kardon stereo, Garmin navigation and AM/FM/CD/DVD/Satellite system with Bluetooth and iPod connectivity.
If fuel efficiency is the name of your game (though an absurd concern on this kind of machine), you'll be happy to learn that this Grand Cherokee can travel 724 km on a single tank.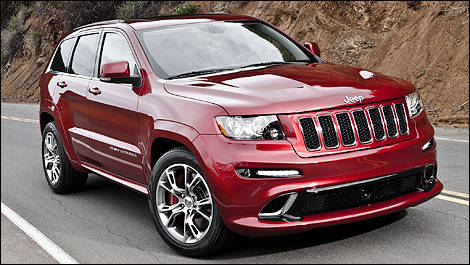 Photo: Chrysler